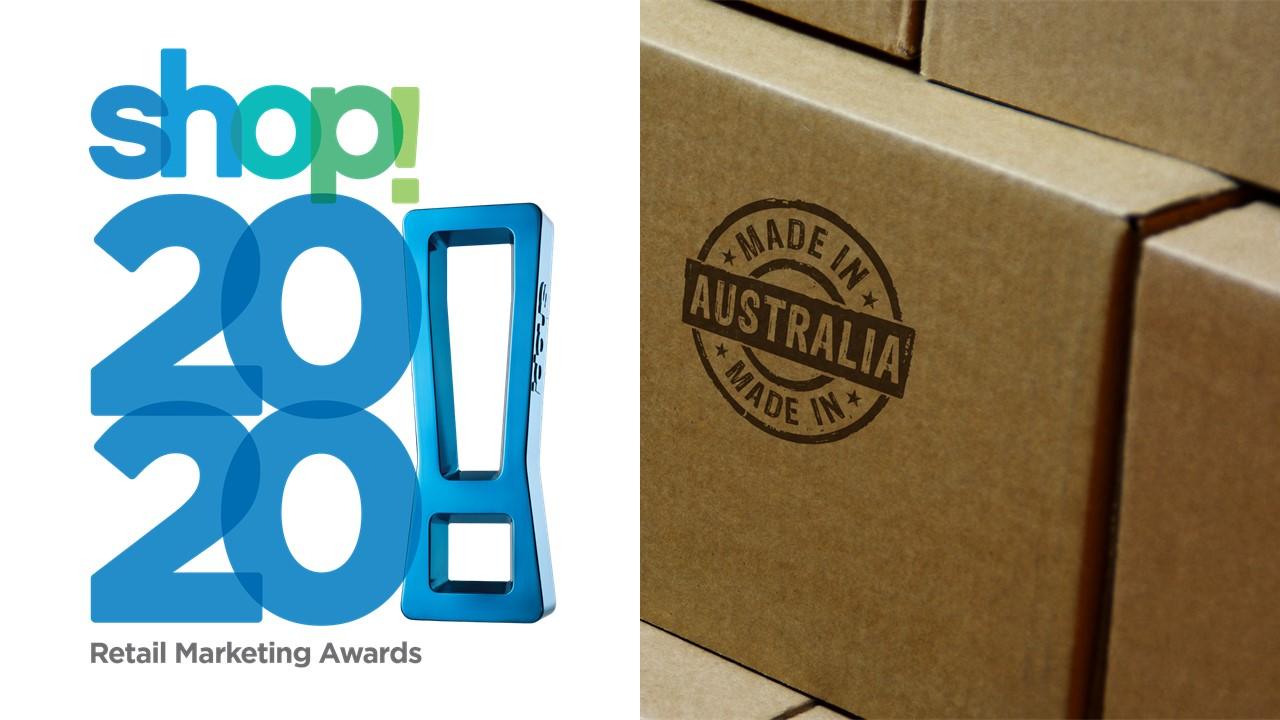 Celebrating homegrown manufacturing and design
Rewarding the success of our local Retail Marketing design and manufacturing community.
As we approach the conclusion of the inaugural Australian Made Week, Shop! ANZ would like to highlight the local triumphs in our own retail marketing industry.
The Australian & New Zealand POP market has transformed remarkably since the POPAI Awards were introduced in 1997, and so too have the values of our community.
Although retail marketing budgets are strictly managed and often manufacturing overseas is the most viable solution, more and more we are witnessing our local designers and producers fight back, creating expertly crafted and efficiently produced POP displays.
Last year following a review of the 2019 Awards, Shop! ANZ responded to changes in our local retail marketing manufacturing industry, introducing the 'Produced in ANZ' category as part of our Awards program – an Award designed to reward homegrown manufacturing and design of retail marketing materials.
To be eligible for the Award, all design, processing of raw materials, assembly and packing of the primary elements of the display needed to be carried out in Australia or New Zealand by an ANZ-based business. The award criteria also calls for a minimum production run of 25 displays.
Read about some of our inaugural Produced in ANZ entrants and winners.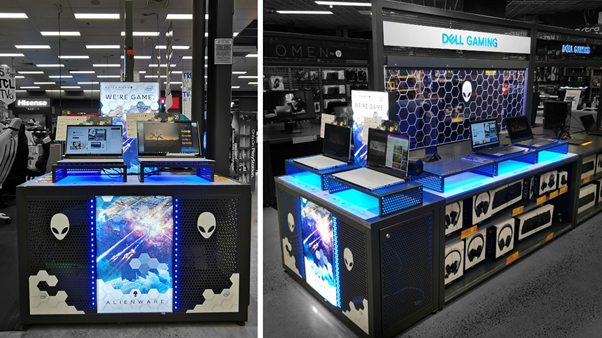 Dell/Alienware Gaming Table JB HiFi
DELL, produced by Double Impact Displays. Gold Winner
Background: Alienware computers are known for their power, reliability, and big graphics, which makes them perfect for gamers of all levels. The brief was to retrofit 27 JB HiFi gaming tables with a call to action for consumers, and an immersive display that appealed to the brand's core market of gamers and encouraged them to engage with the product in-store.
We wanted to achieve a balance of creativity, interactivity, and brand expression to captivate and engage tech-forward audiences and gamers alike. We used movement and lighting to draw attention to the display's key feature: a pulsating, edge-lit acrylic honeycomb Alienware screen, which covered the entire table.
To accentuate and prompt interaction with the products themselves, we installed blue LEDs under each laptop. Positioned below the red pulsating light of the Alienware screen, the static blue light grounded the display and created an inviting space for users to interact with the fixture – defining the path to purchase experience.
Australian/New Zealand Production Credentials: Designed and manufactured in-house in Australia, this was a collaborative effort by the skilled members of our team – industrial designers, CAD operators, project managers, installers, and our compliance team.
All our displays are designed and produced from concept to completion in Australia from our Warriewood workshop. Being part of our community is important to us and runs through everything we do, from sourcing materials from local suppliers to sponsoring the local Surf Lifesaving Club.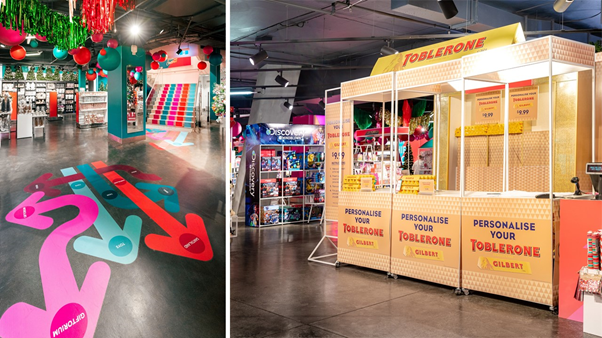 Myer Giftorium
Myer by Active Display Group. Bronze Winner
Background: Even a pandemic couldn't stop the iconic Myer Windows at Christmas from going ahead in 2020, and Myer wanted to ensure the festive season was 'Bigger than Christmas', to make up for all the celebratory occasions that we missed out on as a result of COVID-19.
So, it was important that this feeling of happiness and excitement for the festive season ahead started from the Myer Windows and carried right throughout the store. A bright, colourful colour palette and themed visual merchandising in the shape of life-sized custom-built decorations and instore signage were designed to make this campaign as impactful and memorable as possible. Giftorium, the one-stop-shop for Christmas gifts was back for a 7th year, with 5 beautifully curated zones each offering a unique reason to visit Myer stores to find the perfect gift for absolutely anybody, no matter their age, interests or taste.
Australian/New Zealand Production Credentials: We proudly produced the campaign in-house and in Australia. Specifically, all printing processes, wide format and textiles were produced in Australia. There was extensive use of recyclable polypropylene in this campaign, which was also extruded locally.
A wide range of materials were used to bring this campaign to life, including Polypropylene, Self-Adhesive Vinyl, Nonslip floor graphic, Textile printing, B-Flute, E-Flute and Computer Cut Vinyl.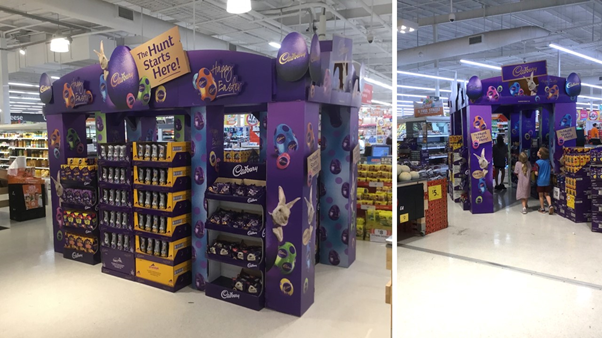 Cadbury Easter House
Mondelez International with TMS - Total Marketing Support
Background: The challenge with this unit was to create an in-store solution that was impactful enough to make the Mondelez brand stand out from competitors in an environment of stressed and time-poor shoppers. We wanted to recreate the magic of Easter in-store, creating an emotional connection between Mondelez and consumers to reinforce Mondelez as the brand of choice at the shelf. Given that Easter is the most important time of year for Mondelez, any work for them around the Easter period must first and foremost be a sales driver. The display was interactive (shoppable both inside and out) and provided a multi-sensory experience to consumers encompassing sound (with spring and bunny hop sounds triggered by a motion sensor upon entry to the display), sight (with our instantly recognisable branding and clear Easter messaging), and of course, taste!
Australian/New Zealand Production Credentials: This unit was printed in the ANZ region by local printers. By printing all products locally, Mondelez were able to have full, minute control over the production process which was key for such a high-impact display. Printing locally also enabled Mondelez to work to tight production and installation deadlines.
---

2020 Produced in ANZ Award sponsored by Centrum Printing.
In its inaugural year, the Produced in ANZ category was sponsored by Shop! members CENTRUM PRINTING. With 25 years' experience specialising in locally produced small to large format printing of POS and Packaging products, CENTRUM was a fantastic fit in sponsoring the Produced in ANZ category.
For more information and judging criteria for this new award, refer to page 14 of the 2020 Shop! ANZ Awards Entrants Information
---
Read more Awards updates