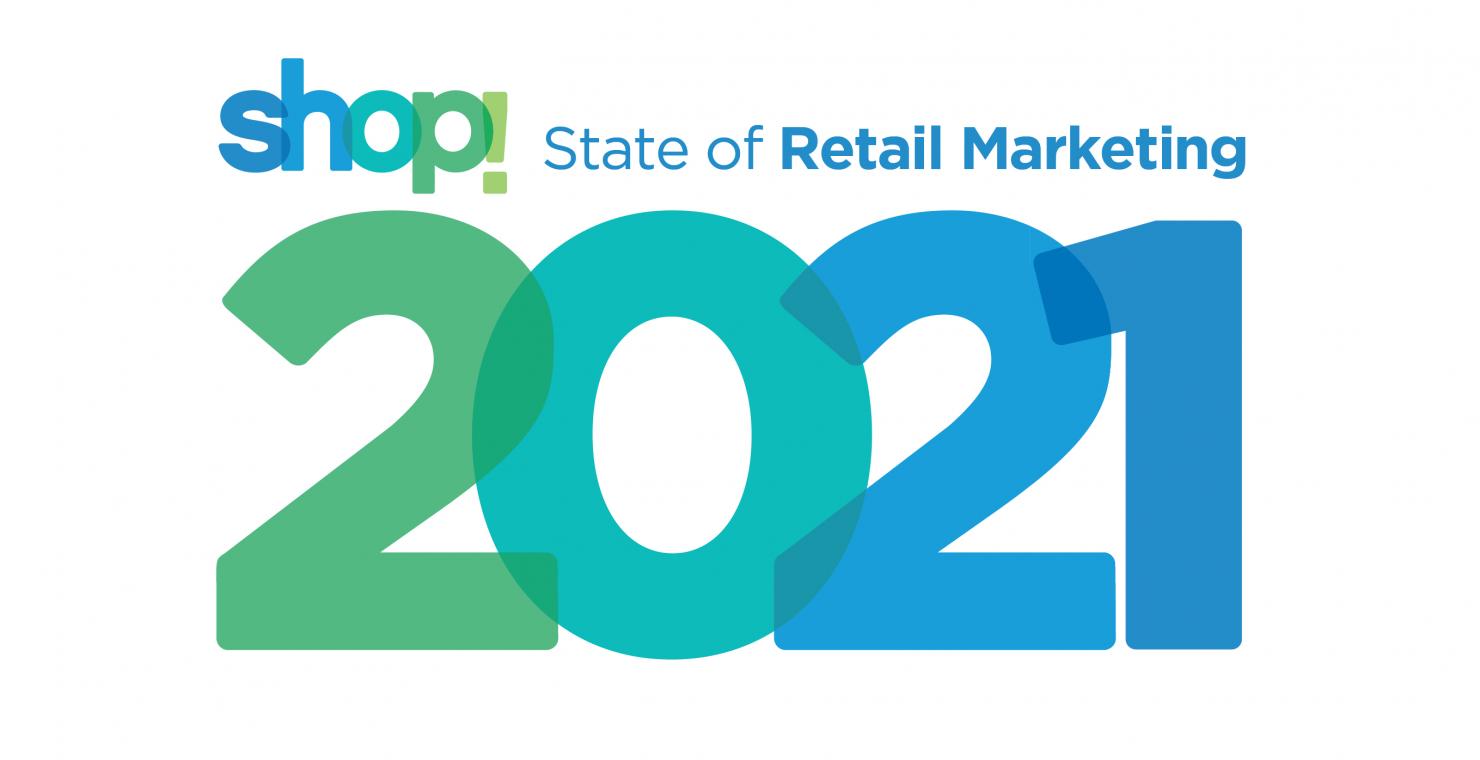 How Retail Marketing is Changing in ANZ
By Carla Bridge & Norrelle Goldring
I'm not telling you anything new when I say the world has changed – and so has retail marketing. What started out 20-30 years ago in Australia as in an instore only component, focused on cardboard displays has evolved far beyond these humble beginnings to become a thriving buoyant marketing discipline, spanning everything from pre-store to post-purchase, and in many cases, taking the lion share of internal marketing budgets.
Shop! ANZ's 2021 State of Retail Marketing report has unearthed some interesting findings based around shopper and retail marketing, with effective execution and strategy discovered to be the key components of successful campaigns and activations.
Understanding shopper mindset and behaviours and using this to build engaging experiences, be it instore, pre- or post-store have become the hallmarks of the trade.
The Shop! ANZ State of Retail Marketing report was first conduced in 2010, and since then, has become a key benchmark for how the industry has evolved and what to expect for the future.
Strategy must stack up
Four in 10 (39%) participants of the Shop! ANZ 2021 State of Retail Marketing research view retail marketing's role as a strategic one, involved in internal annual planning and in joint business development planning with retailers.
A further 29% see it as the tactical expression of a strategic plan. For a similar proportion (42%), retail marketing planning takes place simultaneous to category and brand plans, and for a further 23% as part of business strategy at the beginning of the annual planning process. For only 15% does retail marketing planning come after the brand planning process, a decrease (and welcome change) from previous years and studies.
The involvement of retail marketing earlier in organisations' planning cycles is considered to be resulting in better calendar management and providing scope for more creative ideas, rather than just 'same as last year with adjustments for Easter'.
In addition, in the 2017 survey we noted the oft-repeated mantra of 'fewer, bigger, better' in regards to instore displays and activations. While in 2020 and 2021 there may have been slightly fewer activations getting into market, and they may not necessarily have been bigger, there has anecdotally been more creativity deployed.
We're also harvesting more ideas locally, rather than just following the US and UK when it comes to displays and activations. Creativity and simplicity have shone through, with examples of this including Indicia Worldwide and id8 Studio's Allen's Modular Snake activation for Nestle, as well as The Mix Agency and Opal Specialty Packaging's Nutella x SMEG oversized instore toaster POP display for Ferrero.
Nearly one third of respondents (28%) stated that more than three quarters of brand and occasion led campaigns have made it into market, versus eight percent in 2017. While the majority (67%) of instore activations still involve temporary Point of Sale (POS), as a result of COVID there has been an increase in the use of semi-permanent POS for reasons of real estate holding, budget saving, sustainability and reducing the presence of sales and merchandising people in stores. Retailers are also reducing display numbers to allow for social distancing instore.
Digital ramps up
In this post-pandemic environment, diversified commerce channels and fragmented communications touchpoints abound. The use of digital and 'omnichannel' in an increasingly complex retail environment is one of the major themes of this year's study - an industry problem it is trying to determine how best to solve. We're not there yet.
Despite this, in this year's survey, not a single brand, retailer or agency said that none of their programs involved digital. Digital elements are now appearing in many, if not most, retail marketing programs.
Digital elements may be instore as well as pre-store, such as promotions and offers that can be redeemed using a smartphone. COVID and its attendant store closures and lockdowns has not only accelerated online shopping but also the industry's use of digital touchpoints to reach shoppers.

More than 40 per cent of retail marketing budgets are now estimated to be allocated to digital elements. A third of brands (35 per cent) are using digital elements in all of their retail marketing programs, and eight in ten brands are using digital elements at least half of the time.
Social media is being used by three quarters of the industry for 'pre-store' campaign communications frequently or always, and nearly half (43 per cent) are using direct means such as EDMs frequently or always. Both of these are higher than the 36 per cent using traditional above-the-line media for retail marketing campaigns.
Use of Retailer assets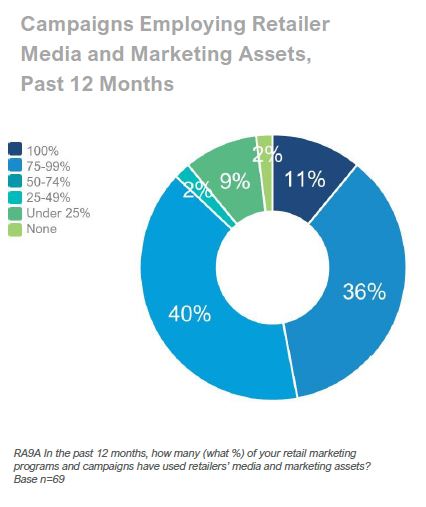 Finally, the growth in use of retailer media and marketing assets, whether or not voluntary, is evident in the large increase in their use between 2017 and 2021.
In 2017, 31% of brands and agencies (total) were using retailers' assets most or all of the time, where in 2021 this figure has nearly tripled to 87%. In 2017 'sometimes' use was at 35% versus 2% in 2021 (use in 25-49% of programs). 'Occasional' use in fewer than 25% of programs in 2017 sat at 26% versus 9% in 2021. And in 2017, 33% had never or not yet used retailer assets, versus just 2% in 2021.
This upward trend has also accelerated the number of brands, agencies and POP suppliers who believe this growth in use is causing retail marketing program costs to rise, leaving less budget available for other program elements. This is particularly acute in the supermarket channel.
Despite the grumbling about the perceived de facto retailer requirement to use their assets in some channels, the increased amount of upfront planning and insights for retail marketing programs appears to be resulting in a higher degree of brand and retailer cohesion than we observed four years ago.
Overall, we are seeing an increasingly integrated, more holistic, less purely physical store approach to supermarket marketing. Copies of the full Shop! ANZ 2021 State of Retail Marketing report are available for purchase online here.
(Logged in members can download the report for free.)
_____________________________________________________________________________________
 ABOUT NORRELLE GOLDRING
Norrelle has 20 years' experience in retail, category, channel and customer strategy, planning, research, sales and marketing, working in and with global retailers, manufacturers, research and consulting houses.
She originated the then-POPAI Shopper Marketing Industry Benchmark Survey in 2010 and has conducted it every three years since. Contact Norrelle at +61 411 735 190 or email norrellegoldring@hotmail.com
ABOUT CARLA BRIDGE AND SHOP! ANZ
Carla is General Manager of Shop! ANZ, the only global, not for profit industry association exclusively advocating for excellence in shopper marketing and retail experience. She has more than 20 years' experience in the Australian retail and FMCG industries. For more information, visit www.shopassociation.org.au or email shop@shopassociation.org.au.