Introducing Shop! ANZ's Board of Directors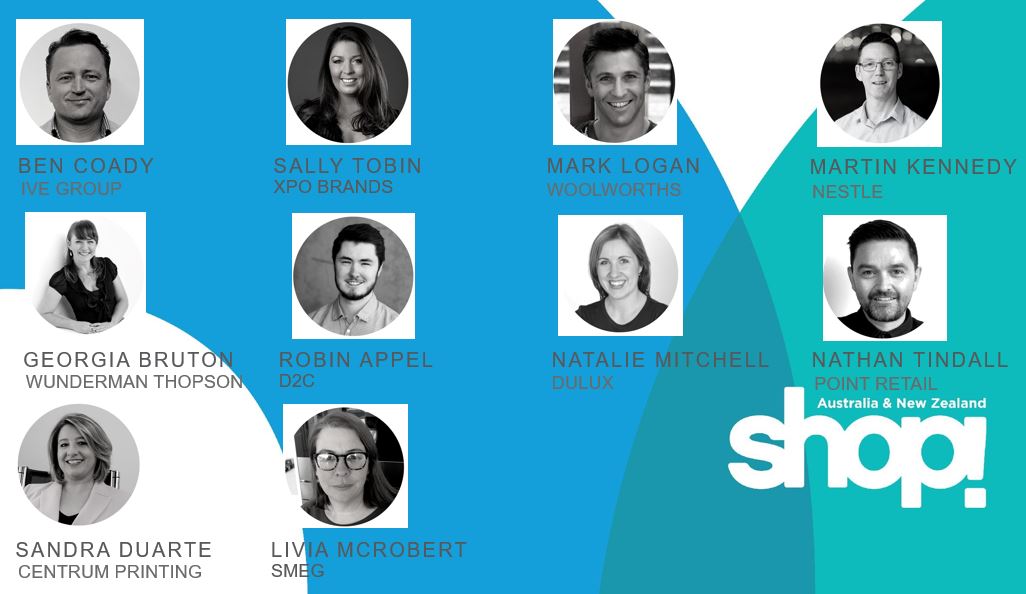 Shop! ANZ has inducted six new directors to its board of 10 following a member nomination process that allows the Association's members to choose their industry representatives.
Joining the Shop! ANZ board for a two year term are Georgia Bruton, Managing Partner, Shopper, Wunderman Thompson; Natalie Mitchell, Insights Manager, Marketing and Innovation, Dulux; Mark Logan, Senior Manager, Instore Marketing, Woolworths; Nathan Tindall, Creative Director, Point Retail; Robin Appel, Partnership Director, D2C; and Sandra Duarte, CEO, Centrum Group.
Four members of the previous board were successful in their re-election, including chair Ben Coady, General Manager, IVE Group; Martin Kennedy, Point of Purchase Manager, Nestle; Livia McRobert, National Marketing Manager, SMEG, and Sally Tobin, Managing Director, XPO Brands.
Three office bearers have been selected by the new board to fill the positions of Chair, Vice Chair, and Company Secretary, with Sally Tobin continuing as Chairperson, Georgia Bruton to fill the Vice Chair position, taking over from Livia McRobert, and Martin Kennedy remaining Company Secretary.
Carla Bridge, General Manager of Shop! ANZ, congratulated the new board, who will oversee the industry association through the next step of its development and evolution, and thanked the outgoing directors.
Retiring from the Shop! ANZ board in 2021 are Vaughan Kerr, 31st Second; Stuart Gittus, Active Display Group; Cecelia Ward, Coles; and Damian Nicholson.
"My huge thanks goes to our outgoing board members, who oversaw the business during one of the most challenging periods in Shop!'s 25 year history. Together, the board made crucial decisions on industry and association business and operations, leaving the Association in a robust position for the new guard of directors to step in," Ms Bridge said.
"I look forward to working with our new Board of Directors to lead the retail and shopper marketing industry through the next two years to ensure that we continue to remain a relevant, indispensable sector of retail across Australia and New Zealand."
Shop! Chairperson, Sally Tobin, said the outgoing board under the leadership of Carla Bridge has placed Shop! in a healthy position for the future.
"While we've achieved so much in the last two years, with the ongoing challenges presented in 2021 business and retail climate, there is plenty more to do, and as a board, I look forward to helping to steer the evolution of Shop! ANZ and Retail Marketing broadly," Ms Tobin said.
Click here to view the profiles of Shop! ANZ's new Board of Directors.