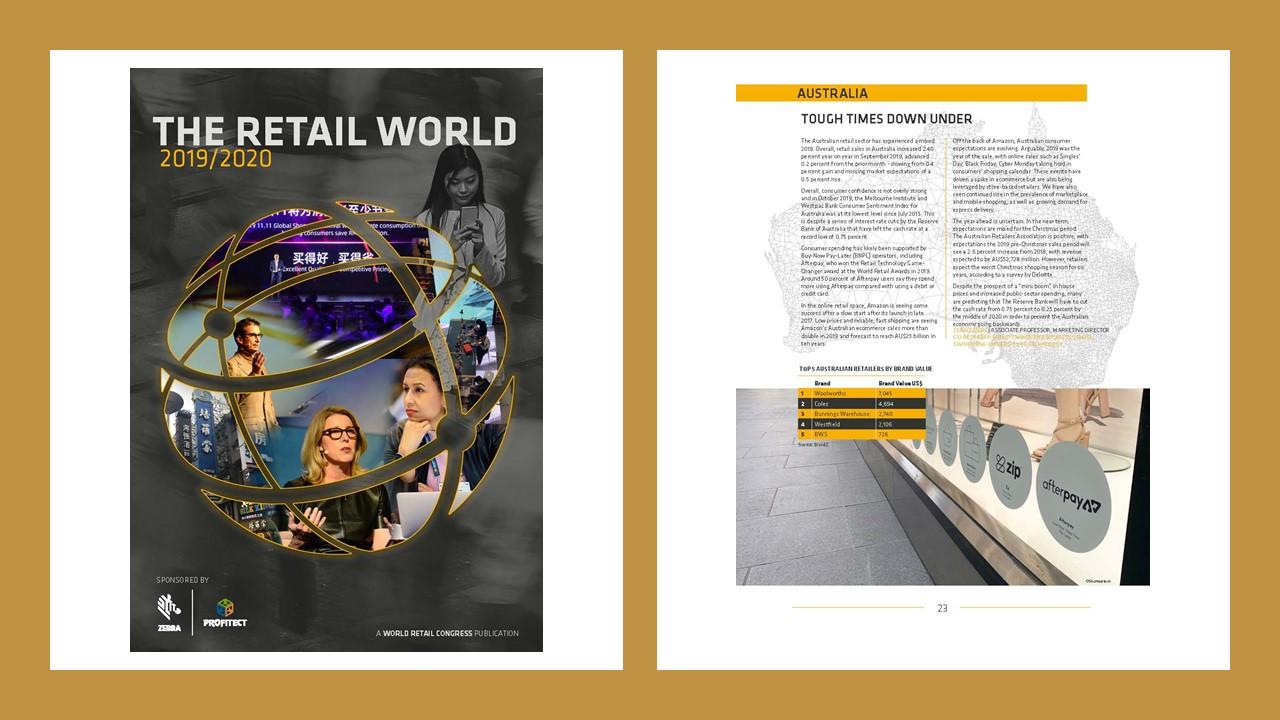 WRC The Retail World 2020
2019. THE YEAR OF HIGH VELOCITY
World Congress Publication
---
Introduction by IAN MCGARRIGLE, CHAIRMAN | WORLD RETAIL CONGRESS
How best to summarise retailing in 2019? Without doubt, the big story continues to be the transformation of the industry, as ecommerce grows and store-based retail shrinks. Latest research suggests that globally, ecommerce will account for 30 percent of total retail sales by 2024 – a forecast boosted by the incredible growth of online retail in China.
But if this massive structural change hasn't been enough for retailers to contend with, the global macro picture in 2019 has only become more challenging. Trade wars have been  extended with a new ferocity, that are now starting to affect consumers around the world, but also national economies and therefore businesses and supply chains. Elections and political change, including Brexit, have also cast their shadow over retailing due to the unsettling of consumer and business confidence.
WORLD RETAIL CONGRESS KEY TAKEAWAYS:
WE ARE LIVING IN A HIGH VELOCITY RETAIL WORLD
Retailers have to speed up their operations in order to serve their customers better. But as we learnt, speed is not enough. Velocity is defined not just by pace but also direction, so retailers have to be clear in deciding what kind of retailer they will become.
WHAT IS YOUR "PURPOSE"?
Retailers have always had to have a point of difference if they are to succeed. But in today's world this has changed to knowing what is your "purpose" in serving your customers; what will you deliver but also and increasingly importantly, what social purpose do you serve or enrich?
YOU CANNOT SUCCEED ALONE
New technologies are coming in ever-faster waves and retail businesses have to adapt fast to the changing landscape. But there is not enough time and resource to do that. The answer is partnership and collaboration as we heard from Kroger and Ocado and Carrefour with Google.
A CONVENIENT TRUTH
Today's consumers want convenience. As Wouter Kolk the CEO of Ahold Delhaize Europe said, there is a global shake-up of retail but the battle for the consumer will be won locally.
DIVERSITY DELIVERS GROWTH
Retail businesses, like any business, rely on growth in sales as their measure of success. But as we heard, retailers that fail to reflect their customers by race and gender will themselves fail. And from that diverse collection of people and talents will come growth.
CHANGE FROM THE TOP
It has become a recurring theme that change within retail businesses will not happen without the will and determination of the leadership teams to embrace risk and to recruit the talents required for today such as datafocused, customer-focused and digitally-aware.
THE CUSTOMER FIRST
Whilst retailers have talked about putting the customer at the heart of their business, in reality few truly have. Retailers have to build their value chain around their chosen consumer "tribe". Lord Stuart Rose summed this up best when he said: "The customer is no longer king; the customer is now master of the universe."
THE ENVIRONMENTAL CHALLENGE
Running throughout the Congress was the key message that younger consumers now expect the brands and retailers they buy from to have
put environmental concerns and considerations at the heart of their sourcing and supply chain.
AI AND HUMANS
The High Velocity world is being driven by technology, but Artificial Intelligence and robotics are now leading the next technological wave.
But we also heard of the need to ensure that technology works with "people" to deliver a service that consumers want.
RETAIL IS NOT DEAD!
An important and powerful message that we heard from veteran retailers such as Lord Stuart Rose, Cath Kidston, Rodney McMullen, Chadatip Chutrakul and Dick Boer. But as they all said, it will only survive if it creates exciting product, engaging stores, great retail and seamless service on and offline and embraces change and new ideas.
---
Read the key global takeways from the conference and country by country updates including an expert piece on Australia written by Swinburne CXI Director Sean Sands.