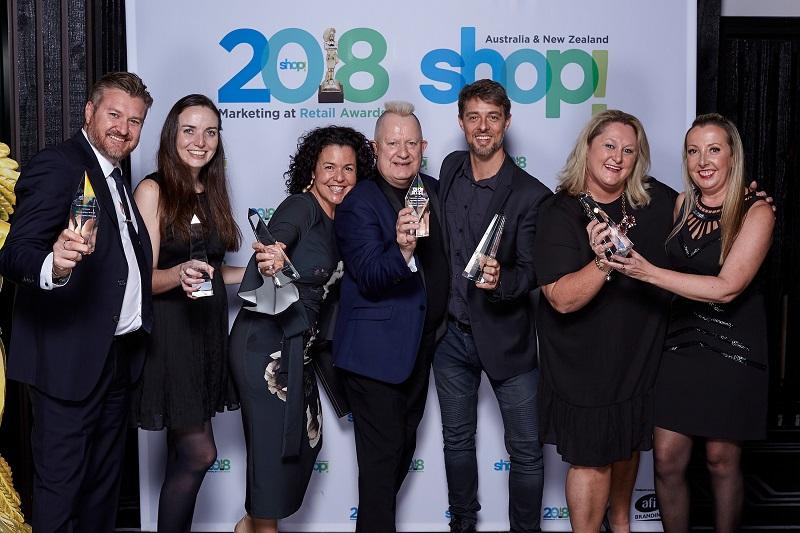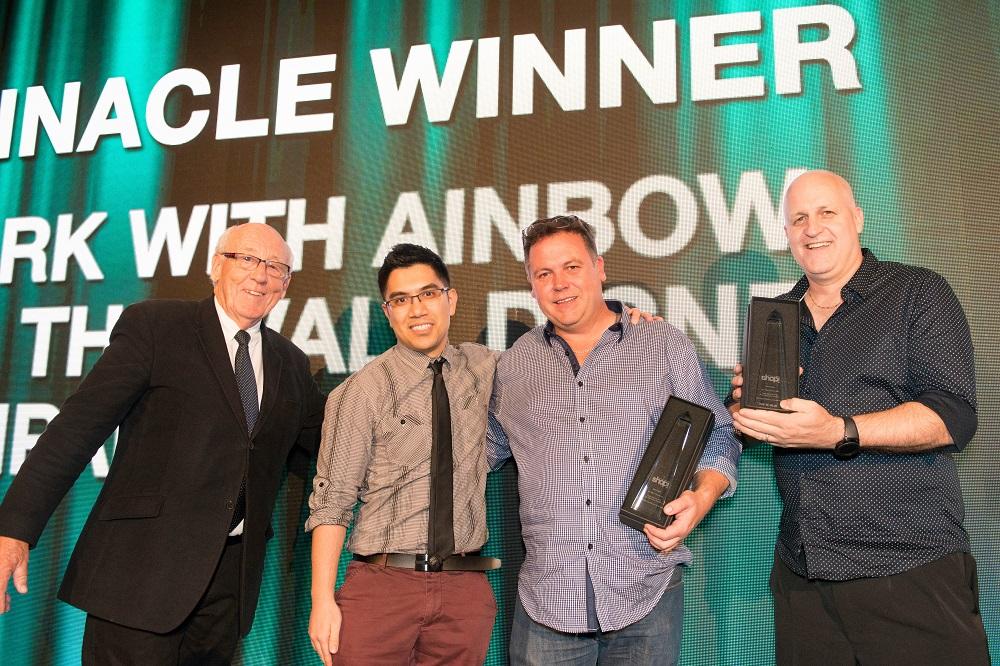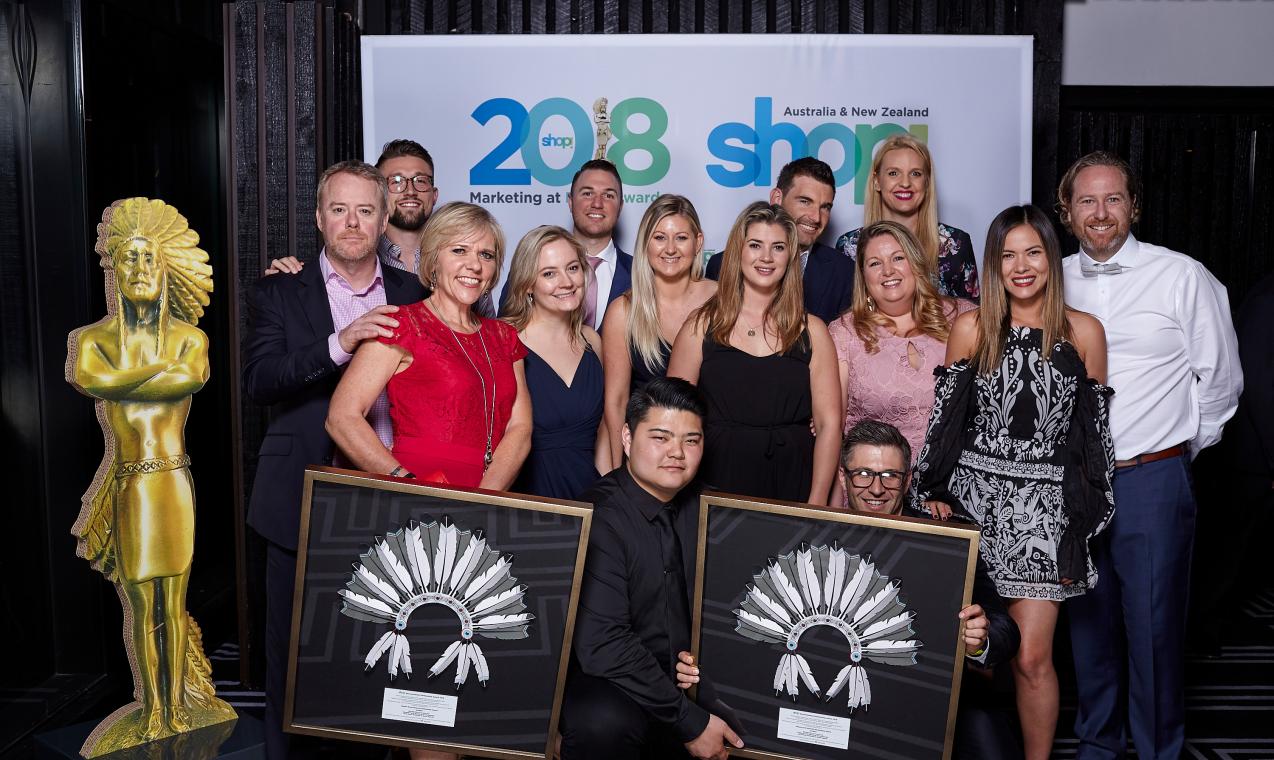 BEST RETAIL MARKETING CAMPAIGNS CROWNED

Myer Santaland named top retail marketing concept
VIEW ALL AWARDS CASE STUDIES - FULL WINNERS LIST BELOW
Active and Ideaworks by Y&R last night scooped the major prize in an event celebrating Australian Retail Marketing, taking home the Best in Show Award for its Myer Santaland concept at the Shop! (formerly POPAI) 2018 Marketing at Retail Awards.
Myer Santaland took out several of the major prizes at the Awards Gala Dinner, held last night at Doltone House Jones Bay Wharf, including the Tom Harris 'best in show' Marketing at Retail prize, Best Design & Innovation, and Best Shopper Experience.
Best Display was awarded to Spark and Ainbow's Star Wars: The Last Jedi for The Walt Disney Company, while PepsiCo and XPO Brands won the People's Choice Awards for Doritos Crackers.
In the two largest and most tightly contest categories – Integrated Path to Purchase and Occasion-Based Campaign, Convert Communications and Edelman won two Golds for their Sprocket Mother Day entries for HP Australia.
Experiential, the fastest growing category of the Shop! Marketing at Retail Awards program, saw Myer Santaland by Active and Ideaworks by Y&R take home Gold, while Silver went to The Round Table's Project Botanicals for Bacardi- Martini and Bronze to Myer's Giftorium Christmas Experience by Active.
In Grocery (Food), Fonterra dominated the Permanent category, winning Gold for its Ideal Chiller campaign with The Xine and Hussmann and Silver for its Next Generation In-Aisle Fridges with Clemenger BBDO and Parmalat. In all, Fonterra's Ideal Chiller received three Gold on the night, while its Next Generation Fridges received two Silver.
Bronze in Grocery (Food) Permanent went to ID POP's Pringles Gravity Fed Unit for Kellogg Australia, and in Temporary, the Red Bull Smile Like Dan campaign by Extravert and OPG Global won Silver; and Fonterra, APR Creative and General Mills' Mexican Made Easy Collaboration took Bronze.
In Health and Beauty, Gold prizes went to Revlon's Youth FX Floor stand by POP This POP That in Temporary, and EDA's Bvlgari Travel Retail system for Permanent.
The annual Shop! ANZ Marketing at Retail Awards recognise and reward best practice, innovation, and excellence in retail and shopper marketing across Australia and New Zealand. Now in their 20th year, the Awards span 22 categories, covering physical display (both permanent and temporary) and shopper experience.
2018 is the Awards biggest year ever, not only attracting a record number of entries at 222 (65 more than 2017), but also the highest standard right across the board.
Carla Bridge, Shop! ANZ General Manager, said she was blown away by the quality of entries, with the 2018 competition incredibly tight.
"While every year has stand-out entries, this year our Awards program was especially competitive, owing to the high calibre of the campaigns submitted," Ms Bridge said.
"There was a noticeable lift in the standard of entries right across the board, in most categories, there were several worthy winners, however, we were only able to Award Gold, Silver and Bronze in each category," she said.
"We've seen a surge in popularity in the non-traditional Shopper Experience categories. While the more traditional Physical Display categories remain as strong as ever, 2018 has really been a tipping point for newer disciplines such as Digital and Experiential."
To achieve Gold, Silver and Bronze Awards, entrants must hit set scores – in the case that a score is not met in a category for that year, no prize is awarded.
Ms Bridge congratulated all the winners of the 2018 Awards. "These Awards are a true testament to the strength and success of retail marketing in Australia and New Zealand and prove that the sector is a robust and indispensable element in the retail mix," said Ms Bridge.
To view the 2018 Shop! Marketing at Retail Awards entries and images click here. 
2018 Shop! Marketing at Retail Award Winners -  Gold, Silver, Bronze
Category

Gold

Silver

Bronze

Large or Department Store

Santa's Christmas Cabin at Big W – Think Display for Ferrero Australia

A Fresh Approach to Food Waste – Think Display for Sunbeam Australia

Oral B Touch & Learn Display – Williams Lea Tag with Popcorn Displays for Proctor & Gamble

Grocery Store (Food) Temporary Display

Nestle Nutritious Snacks 2017 Aussie Faves NDP – Nestle Australia with Store Display Global

Red Bull Smile Like Dan – Extravert with OPG Global Solutions for Red Bull Australia

Mexican Made Easy Collaboration – Fonterra with APR Creative & General Mills

Grocery Store (Food) – Permanent Display

Ideal Chiller – Fonterra Australia with Clemenger BBDO & Parmalat Australia

Next Generation In-Aisle Fridge – Fonterra with The Xine & Hussmann

Pringles Gravity Fed Unit – ID POP for Kellogg Australia

Grocery Store (Non-Food)

-

Energizer Mixed 4-way – POP This POP That for Energizer Australia

Lynx Gold Reinventing the Wheel – Konica Minolta for Unilever Australia

Liquor – Temporary Display

 

19 Crimes First Choice Launch – Treasury Wine Estates

Iron Jack Ute Display – Geometry for Lion

The New McWilliam's Wine Range – Orora Specialty Packaging for McWilliam's Wines Group

Liquor – Permanent Display

 

-

Spirit of New Orleans _ What To Do for Southtrade International

Jack Daniel's Super Premium Display – id8 Studio for Brown Forman

Petrol, Convenience & Route

Going Natural: Disrupting the Energy Drink Category – Conversion With Allprint Graphics for Frucor Suntory

Kettle Popcorn Cups Pops P&C – Orora Specialty Packaging for Snackbrands Australia

7-Eleven Cookies N Kreme – Active for 7-Eleven

Health & Beauty – Temporary Display

 

Youth FX Floor Stand – POP This POP That for Revlon Australia

Photoready Selfie – POP This POP That for Revlon Australia

 

Neutrogena Acne Light Therapy Mask Launch – Semcom Visual Communication for Johnson & Johnson Pacific

Health & Beauty – Permanent Display

 

Bvlgari Travel Retail System – EDA for Bvlgari

GSK Store of the Future – Bluestar Displays for GlaxoSmithKline

Australis Customisation Palette Spinner – Point Retail for Heritage Brands

Consumer Electronics – Temporary Display

 

Star Wars: The Last Jedi – Spark with Ainbow for The Walt Disney Company

The Camera. Reimagined. – Cheil Australia for Samsung Electronics Australia

Ultimate Ears Pop Up – Active for Logitech

Consumer Electronics – Permanent Display

 

A Fresh Approach to Food Waste – Think Display for Sunbeam Australia

Miele Blizzard Floorcare – Mills Echo for Miele Australia

Oral B Touch & Learn Display – Williams Lea Tag for Proctor & Gamble

Specialty Retail, Lifestyle & Service Providers – Temporary Display

-

Purina Pro Plan Bright Minds Pallet – id8 Studio with Konica Minolta for Nestle Purina

Crown Level One Retail Promotion – Immediate Marketing Communications for Crown Resorts

Specialty Retail, Lifestyle & Service Providers – Permanent Display

Wolverine Floating Shoe Display – Active for Workwear Group

Petstock Glow Display – id8 Studio for Petstock

Brickworks Sonnen Solar Display – Mills Echo for Brickworks Building Products

Category Management

 

Ideal Chiller – Fonterra Australia with Clemenger BBDO & Parmalat Australia

Next Generation In-Aisle Fridge – Fonterra with The Xine & Hussmann

Best Friends Health & Wellness Category Display – Point Retail for Best Friends Pets

Window Displays

 

Samsung Galaxy Low Light – Cheil Australia for Samsung

Samsung Galaxy S9 | S9+ Preorder – Cheil Australia for Samsung Electronics Australia

Cars 3 Myer Window – Active for The Walt Disney Company

Store Design

 

Ideal Chiller – Fonterra Australia with Clemenger BBDO & Parmalat Australia

RACQ – Public Design Group for RACQ

Giftorium Christmas Experience – Active for Myer

Digital Instore, Mobile, Social & Online

Sprocket Mother's Day: Social Influencer & CGC Campaign – Convert Communications with Edelman for HP Australia - Print

Red Bull Smile Like Dan – Extravert with OPG Global Solutions for Red Bull Australia

Allen's Fruits & Cream, Vote For Your Favourite Flavour - Nestle

Experiential

 

Myer Santaland – Active and Ideaworks by Y&R for Myer

Project Botanicals – The Round Table Communications for Bacardi Martini Australia

Giftorium Christmas Experience – Active for Myer

Sales Promotion

 

Parmalat Ice Break XBOX On Pack Promotion – MKTG for Parmalat

Buy Beer, Shazam, Get Cool Stuff – Carlton Dry – Clemenger BBDO for Carlton & United Breweries

Get Vestive – Bamboo Marketing Communications for Frucor Suntory

Occasion-based Shopper Campaign

 

Sprocket: The Perfect Mother's Day Gift - Convert Communications with Edelman for HP Australia - Print

Myer Santaland – Active and Ideaworks by Y&R for Myer

Red Bull Smile Like Dan – Extravert with OPG Global Solutions for Red Bull Australia

Integrated Path to Purchase Campaign

 

Sprocket Mother's Day: Live it. Love it. Buy it. - Convert Communications with Edelman for HP Australia - Print

Aperol Integrated Campaign – Campari Australia

Doritos Crackers – PepsiCo with XPO Brands

Field Marketing Excellence

Optus Prepaid Mobile Field Program – CPM with Retail Safari for Optus

Brushes, Bling & Big Sales – Conversion with Think Display for Colgate Palmolive

Spreading the Love for Obela Hommus – Conversion for Obela Global

Megara Environmental Stewardship

Woolworths Ice Cream Van – Styleprint with Blackdog for Woolworths

Ferrero Kinder & Pralines Easter 2018 Basket – Orora Specialty Packaging for Ferrero Australia

 
2018 Shop! Pinnacle Award winners
Award

Winner

People's Choice

Doritos Crackers

PepsiCo with XPO Brands

Best Design & Innovation

Myer Santaland

Active and Ideaworks by Y&R for Myer

Best Shopper Experience

 

Myer Santaland

Active and Ideaworks by Y&R for Myer

Best Display

Star Wars: The Last Jedi

Spark with Ainbow for The Walt Disney Company

Tom Harris Marketing at Retail Award

(Best in Show)

Myer Santaland

Active and Ideaworks by Y&R for Myer