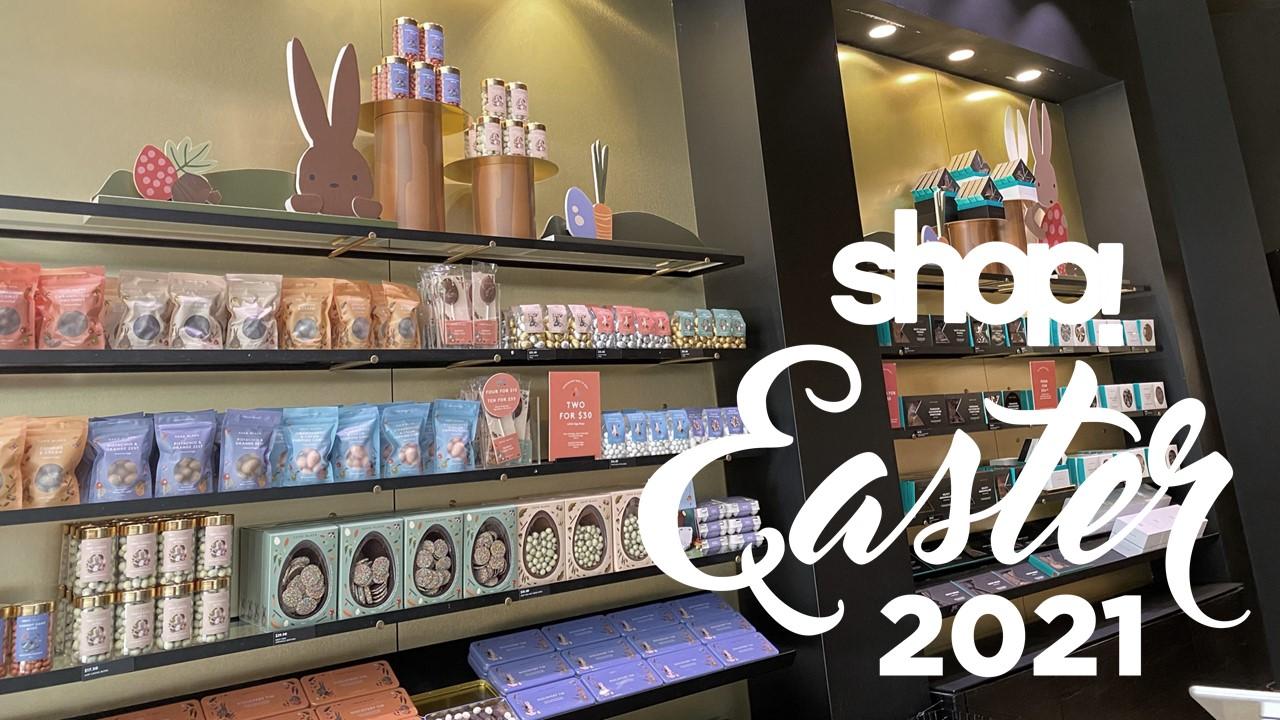 2021 Easter Retail Display Review
The Spectacular versus the Stack-tacular
Report by Zita Watkin, Shop! ANZ
---
Our favourite 'chocolate in foil' purchasing occasion of the year is here.
Not so long ago, we used to see all our favourite chocolate bars and family blocks wrapped in foil, and now foiled chocolate is something quite exclusive to special occasions like Easter.
It makes sense. Easter gifting is all about the detail, right? I mean, you have fantastic brands and products, many similarly priced, often discounted, and a captive market. Sales will be made, but who will make the biggest impact? Gold islands, personalisation of a traditional favourite, or bold monochromatic pallet trays impressively stacked.
This Easter the team at Shop! Australia and New Zealand hit the shopping centres to stand back and see what stood out. We created our own mini-POP spotting crew, combining forces with Shop! ANZ shopper research partner SmartSpotter and Paul Dobbin from The Shopper Lens, to deliver a visual report full of Easter's retail activations from Australia and New Zealand.
This Easter is different. Although there are some playful activations, we don't have the immense push into the personalisation and experiential zones that we have seen in the previous few years. So, should we call Easter 2021 conservative? No, let's give it more credit than that. I'd call it hardcore leveraging resources and budgets, using clever displays, storytelling, and some authentic narratives.
One element appears to be crucial in all instore Easter activations. No matter how you achieve it, IMPACT IS EVERYTHING!
---
2021 Easter Retail Display Themes
1. The spectacular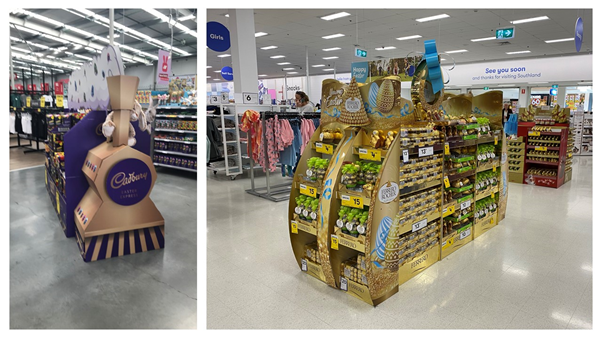 The spectacular display is a tradition for many brands. I define a 'spectacular' display as a mini destination bringing all POS together with impressive brand centric presence.
Grand eye-raisers this year include the giant inflatable Lindt bunny and the classic Cadbury train at The Warehouse in Auckland. Cadbury also used inflatables bringing their iconic bunny to life in Woolworths stores creating an unmissable and fun call to action.
Ferrero islands command attention in Big W's vast aisles with rotating header and motion activated lights.
2. The stack-tacular! A growing phenomenon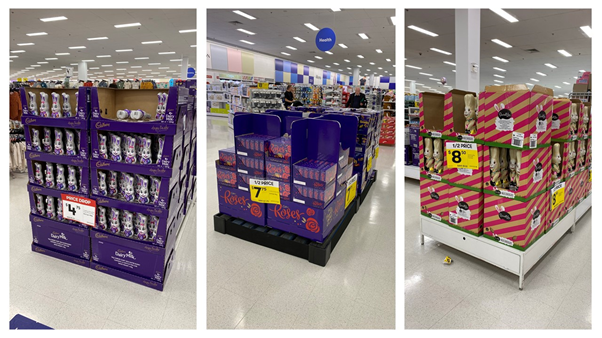 The humble one or two colour case stacker seems to have grown up. It is being used by multiple brands, with Cadbury the absolute stand-out in this area.
The evolution of the case stacker as a marketing communication tool instore has seen something that used to more resemble a dumping zone into something cleverly adopted to minimise materials and cost, whilst maximising impact to shoppers.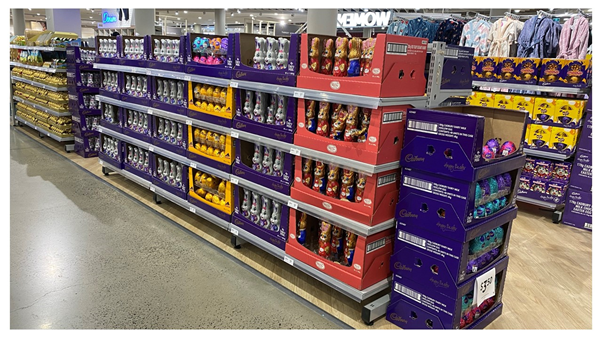 You could argue that they are not creative, but speaking from and industrial designers' perspective, some of the cardboard engineering to create towers out of shipper boxes is certainly clever.
The stack-tackulars are used on pallets in aisles and on permanent store fixtures.
If done well, the minimal 'stack-tacular' can make the traditional wrapped in foil Easter product the hero.
3. The storyteller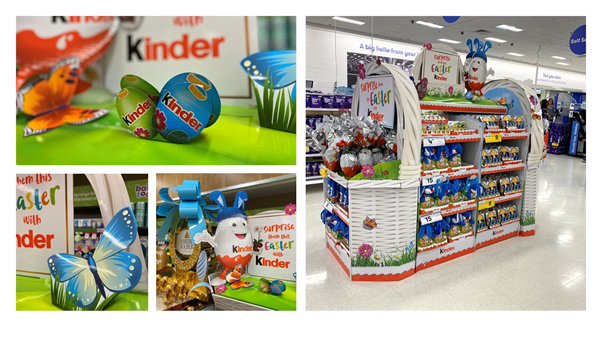 Kinder is a brand that does occasion based marketing so beautifully in the store environment. Their displays always have a strong story that they bring to life with graphic illustrations and 3D elements. The Kinder FSDU's this Easter are so much more than utility towers used to hold product. The 'Surprise them with Kinder this Easter' range of displays incorporate tiny pop-up style detailing creating a reason to get up close and encourages engagement.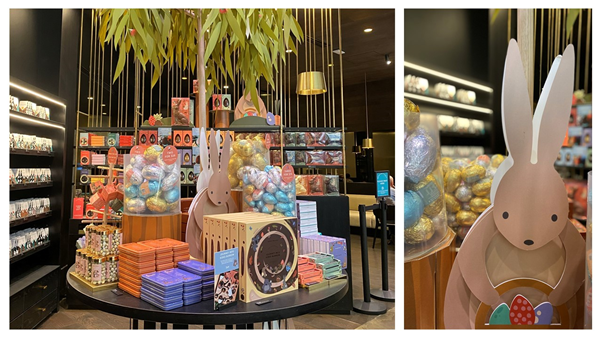 With 14 retail stores around Australia, Koko Black is a favourite of mine and many who love chocolate blended with experience and a story. Their stores are beautifully curated this Easter with a mystical Australian inspired garden feel throughout that that guide shoppers through their gift purchasing. Escape for a moment in their Café and enjoy one of their signature 'Hot cross chocolate' beverages.
4. The hunt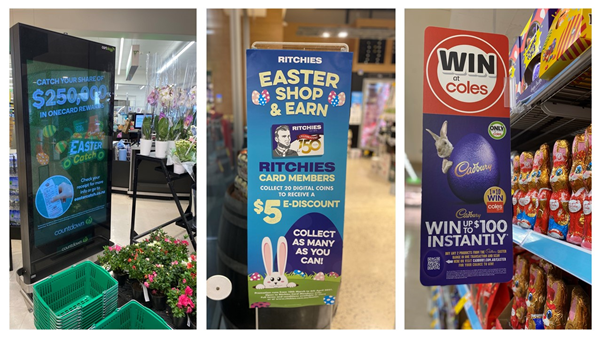 There are an abondance of retailers and brands leveraging from the Easter occasion with the instore hunt idea which has become a standard fixture in many stores. In New Zealand, New World is running a physical 'find the word/symbol' game and Countdown is running a Onecard digital game across physical and digital stores. 
We see similar activations in Australia in Coles and Woolworths. Cadbury and Coles have teamed up to create 'Win up to $100 instantly' by purchasing 2 products from the Cadbury® Easter range in one transaction.
Independent supermarket Ritchies IGA is running a 'Easter shop and earn' where you are encouraged to collect 20 digital tokens throughout store to claim a $5 e-discount.
5. The non-sugar alternative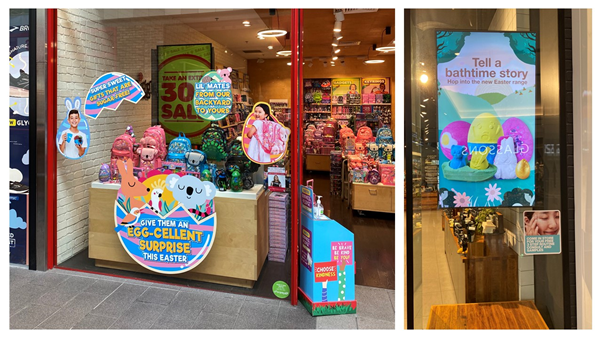 Yes, there are non-sugar alternatives for gifting and engagement this Easter!
When you see Easter as being a general 'youth gifting occasion' rather than a chocolate egg occasion, a whole raft of retail opportunities open.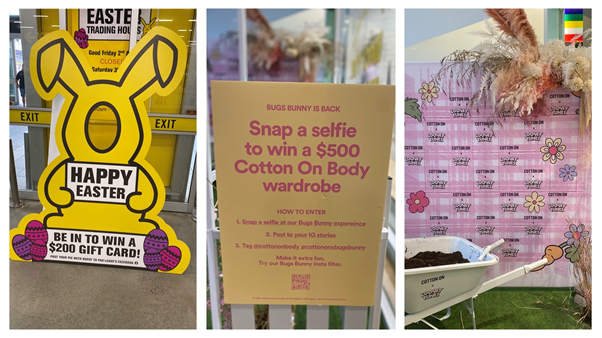 In New Zealand, Pak n Save is having fun with their own-brand stickman Easterness including opportunities to win gift cards by sharing a selfie with the stickman bunny. 
Lush has brought out Easter themed bath bombs. Smiggle has an interesting window suggesting that 'sugar free gifts' are on offer.
Cotton On Body is not talking Easter but aligning a Loony Tunes Bugs Bunny promotion with the Easter occasion says Easter even without saying it. Similar to The Warehouse, sharing a selfie puts you in the running for a Cotton On Body wardrobe.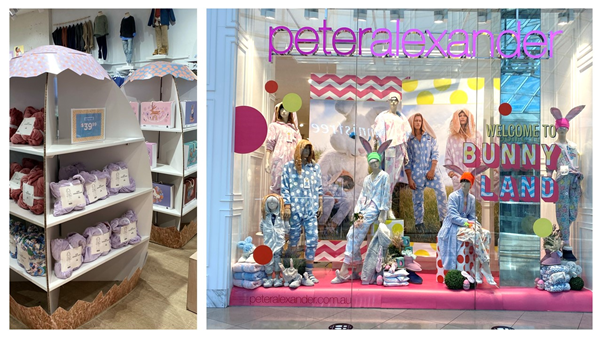 Cotton On Kids and Seed Kids are also decking out their stores with creative visual merchandising and windows. Cotton On Kids has produced clever cardboard egg shaped FSDUs creating an attention-grabbing Easter micro-destination in store.
---
Download your Shop! ANZ 2021 EASTER DISPLAY VISUAL REPORT covering 20 retailers in Australia and New Zealand. This is a member exclusive report. Not a member? Find out more >