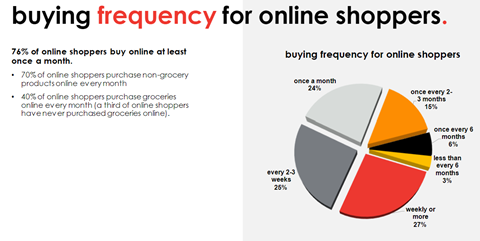 Marketers must embrace online shopper journeys
Marketers will need to shift gears into 2022 to ensure they provide satisfying omni-channel shopping experience amid escalating consumer expectations according to new research.
The Australian E-commerce Report 2021, which was conducted in June this year at a time when most of Australia was out of lockdown and people had resumed some of their pre-covid lifestyle, also flagged local, sustainable and ethical brands as the biggest winners in the year ahead, particularly for direct-to-consumer brand shoppers.
Based on research conducted with 1000 Australian online shoppers examining the consumer attitudes, behaviours and influences driving e-commerce in Australia, the Australian E-commerce Report 2021 found that there has been a fundamental shift in consumer shopping behaviour driven by COVID-19 and Australian retailers have adapted with investments in digital transformation that have resulted in extraordinary growth in e-commerce expenditure. 
The report also found that while convenience was named by 76% of online shoppers as the biggest driver of online shopping and one that was worth paying a premium for, it's no longer a strong differentiator for brands to simply be online and offer choice.  Marketers will now need to ensure they are consistently reviewing the entire buying journey they offer their customers, from the research phase through to delivery of the goods purchased. 
While most shoppers during COVID in 2020 were not new to online shopping, 84% of those who increased online shopping during covid have sustained this increase or purchased even more frequently so far in 2021.  In June this year, 76% of online shoppers indicated they were buying online at least once a month.
Online search was identified as the most popular source by consumer for inspiration and discovering brands when buying something online, while social played a significant role for millennial shoppers, with half indicating social media is now an important part of how they find products to buy.  Retailer marketing channels were also found to play an important role in communicating to online shoppers with 59% often reading content produced and distributed by retailers via retailer websites, emails, catalogues etc.
Other research findings include:
56% of direct brand shoppers and 39% of non-direct brand shoppers are more likely to buy from retailers who have behaved well during the pandemic. This presents an opportunity for all brands to authentically showcase their values and ethical credentials. 
46% of online shoppers are now buying more things online from local retailers, presenting a clear opportunity for brands to develop a sense of community and connection. 
Ethical and sustainable propositions resonate more strongly with direct-to-consumer brand shoppers, with some 54% of direct brand shoppers preferring to buy from brands they know are sustainable (compared to 38% of non-direct brand shoppers).
Direct brands should amplify communication of brand proof points over hygiene factors 
Value for money has increased as a compelling reason for choosing direct brands this year, however other hygiene factors such as being simple to buy and having quick and easy returns are not distinguishing direct brands as much as they did last year.
Brand proof points such as innovation, personalisation, socially responsible, environmentally friendly and Australian owned have become more compelling reasons for purchasing a direct brand.
Shopper rewards programs are popular with online shoppers, but trust and increased transparency are needed
9 in 10 online shoppers signed up to at least 1 shopper rewards program and amongst these 45% are signed up to 4 or more cards.
54% of online shoppers have at least some concerns regarding how retailers use the data about them provided via the loyalty program or reward card, but concerns are reduced when consumers have a high level of trust with an individual retailer. 
Most loyalty card holders understand retailers use their data to target advertising and market products to them but nearly a third (30%) lacked knowledge on whether their data was provided to other companies.