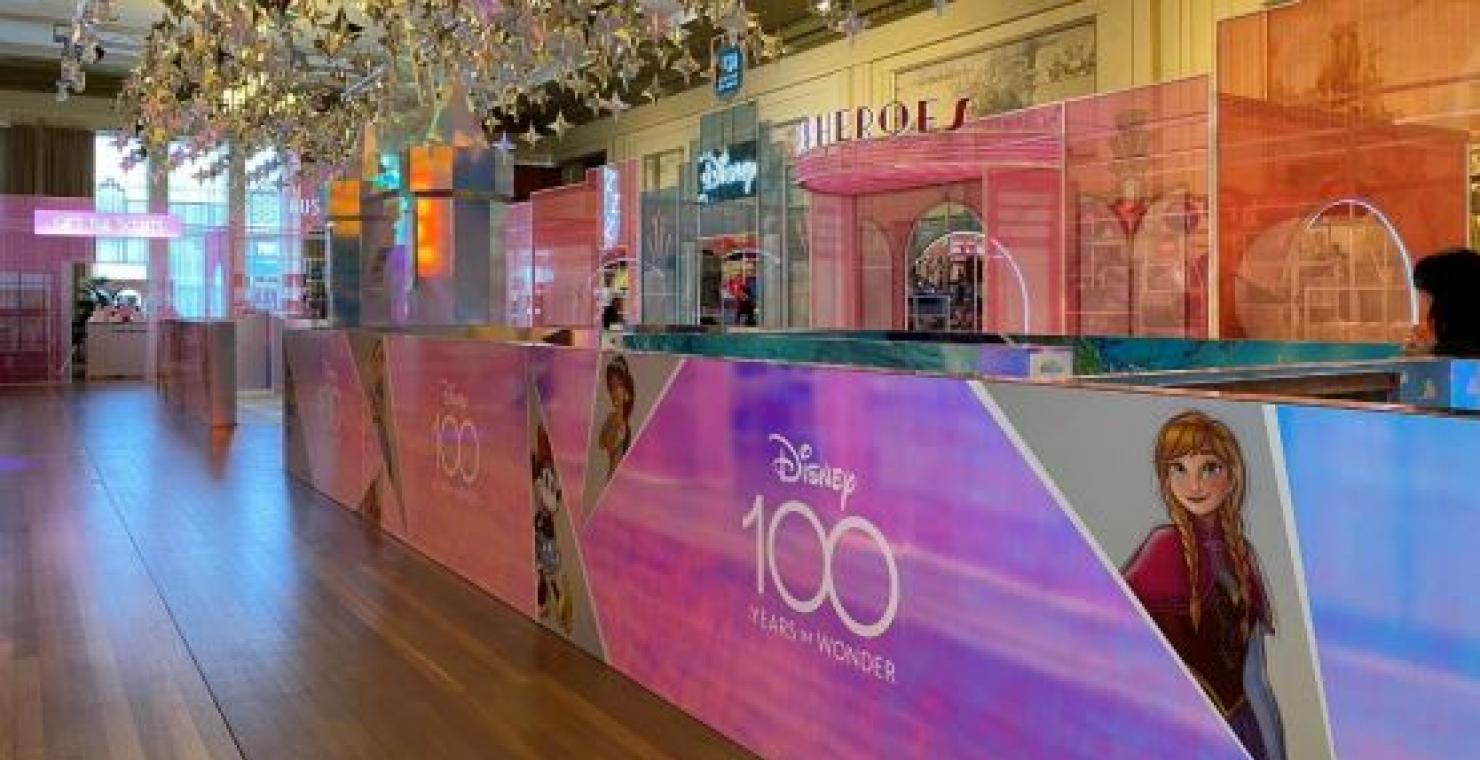 Myer Melbourne Christmas 2022: In-store VM review
This article was wrriten by Zita Watkin, formerly Shop! ANZ Board member and Marketing Manager. 
As a retail marketing lover, I was super excited to make my annual trip to Myer Melbourne and embrace all the excitement and emotions that Myer delivers at Christmas.
After two years of a toned-down approach during the pandemic, I was keen to be emersed in all the visual merchandising and experiential elements celebrating a normal year within Myer's flagship store environment.
During 2020 we saw key shopper and experiential features like Giftorium and Santaland make the Covid-safe move from levels 6 & 7 to the Myer basement, removing that wonderful in-store experience that takes shoppers on a winding journey throughout the store. A visit to Myer Melbourne is iconic at Christmas, and the trip straight down to the basement eliminating the excitement of the whole store journey to the North Pole was missed by many, I'm sure.
Last Christmas, with all the hopes and dreams that the COVID era of retailing was behind us, we saw Giftorium and Santaland back in their rightful home, albeit with a socially distanced Santa and a "masks on" approach.
But this year, Myer Christmas is back! Back with the journey, experience, and excitement that truly represents something for everyone.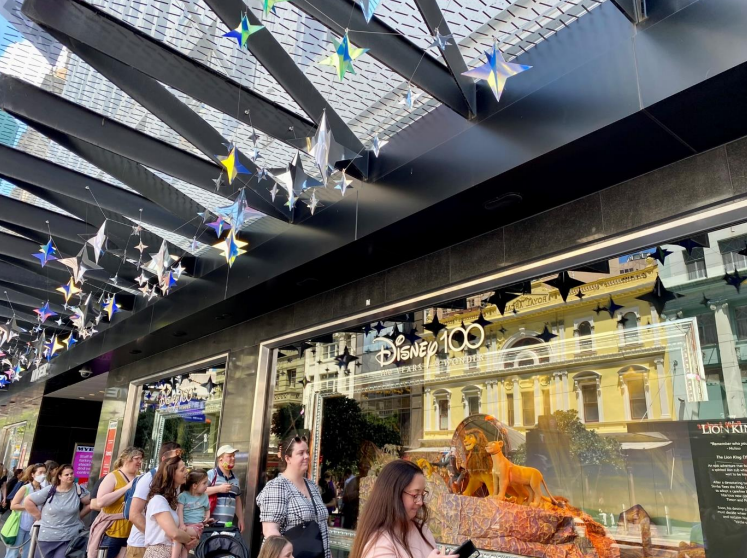 Overall theme for visual merchandising and in-store experience
The simplest way to describe Myer Melbourne's in-store campaign is, magical. The overlayed theme which runs all the way from the iconic Disney scenes in the windows, through to Giftorium and Santaland celebrates "Disney's 100 Years of Wonder".
The blend of Disney magic together with this season's key campaign messaging "THE SEASON IS THE REASON" is thoughtfully curated throughout the store supported by bold and contemporary propping and VM.
Visual Merchandising
Something I adore about Myer Melbourne's Christmas theming, is the way that the stores unique architectural features are utilised in creative ways, blending both store design and VM perfectly together.
Myer's six Christmas Windows take you through a journey with memorable scenes and adored characters from Snow White, Micky Mouse, and Lion King, through to more contemporary scenes from Frozen.
Like Myer's iconic Melbourne store, the Disney Castle is synonymous with the 100-year-old brand.
When you think about the Disney Castle, you imagine it with stars and magical fireworks in the night sky. The Disney stars play a pivotal role tying Myer's Christmas campaign together with Disney's 100 years celebration.
Stunning pearlescent and metallic stars are a feature throughout the store; from window awnings, through to the mesmerising level 7 atrium space, to Giftorium and finally to the Disney children's sanctuary on level 7 where children can create their own Mickey Mouse ears to take home.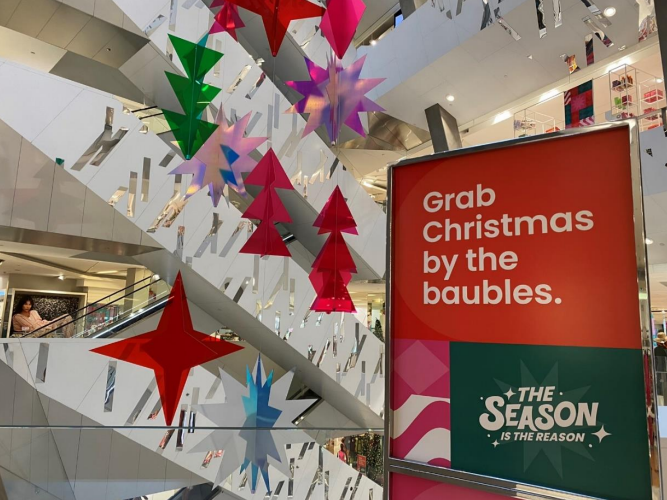 Throughout each level of the store, shoppers are taken on a journey with fun messaging like, "Stuff the turkey, stocking and self-control", "Grab Christmas by the baubles", and "Deck the halls, kitchen and living room". The messaging is brought to life with bold VM and propping in a colour pallet of green, pink, and red patterns which feel like an Australian contemporary take on traditional Christmas wrapping paper.
On-theme showcases and floor decals outside each floor's elevators set the mood for the level, whilst taking the escalator transports shoppers through the store with stunning suspended atrium decorations in this year's colours and pattens with metallic and pearlescent finishes.
Store fixtures clad in transparent versions of the Christmas pattern extend the Myer Christmas brand experience through to product merchandising.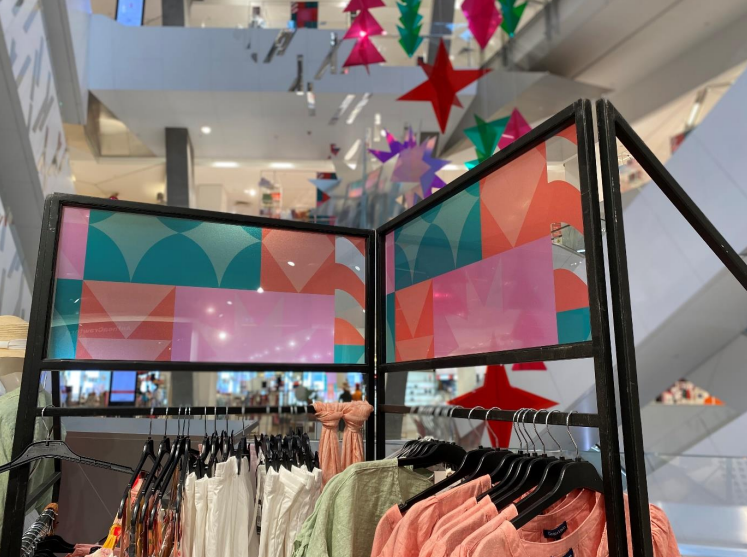 Before you arrive at Giftorium…
Level 5 is a real mood setter before you get immersed in Giftorium and Santaland. At the base of the escalator, you can't miss this year's new Myer pop-up by award winning Sunshine Coast Gin company Beachtree Distilling Co. Whether you are looking for a unique gift, or a sneaky tasting, this pop-up is a required shopper pit stop!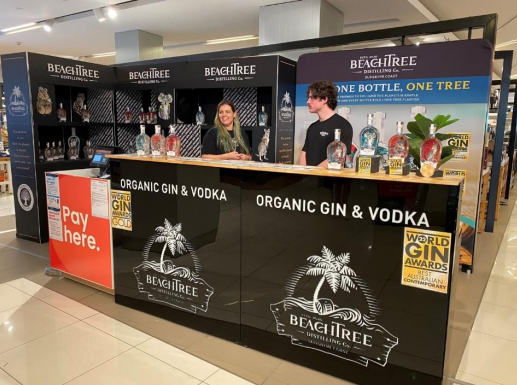 Level 5 also features a series of Myer curated "Flavours of the World" pop-ups which again utilise existing store fixtures, cleverly clad in arched paperboard using this year's Christmas themed colours.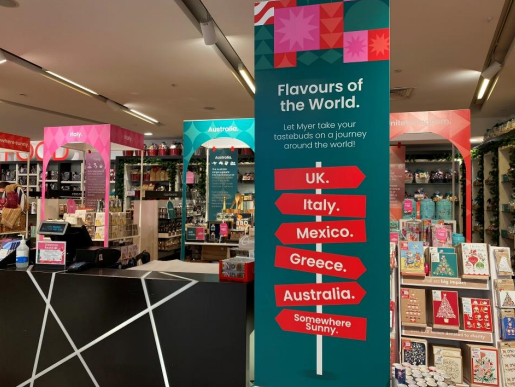 Giftorium
We have witnessed many evolutions of Myer Giftorium which is now in its ninth year.
Way back when we first saw Giftorium in 2013, the space had more of a farmers market / carnival type of feel with natural pine timber and plywood supported by vendor signage. In these early years, Giftorium was still the destination for Christmas gift shopping, but with a more ad hoc placement of vendors within the space.
Now in its second year within the original Myer Mural Hall space on level 6, Giftorium has transcended into a chic and Parisian looking space, with less of a market feel, and more of a curated boutiquey store-in-store for Myer. The unique vendor pop-up feel has gone, and the move is towards a continuous series of small rooms connected by archways. This helps to curate the shopper journey more and guides you through the entire Giftorium gifting experience.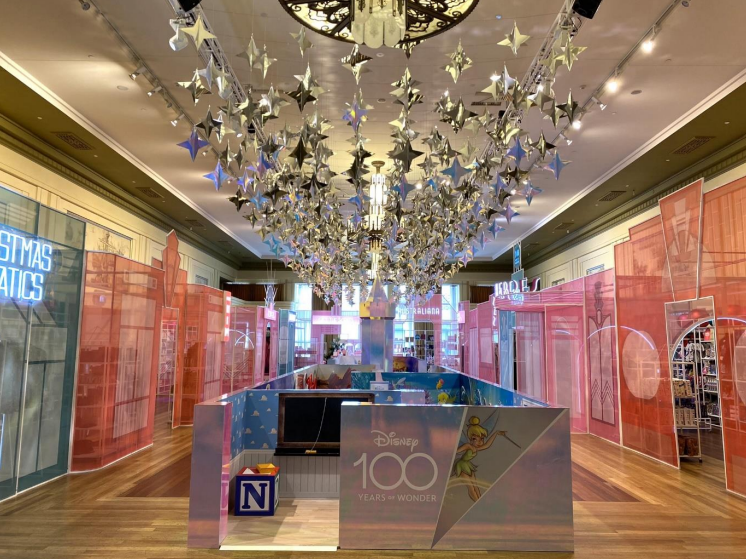 Giftorium still has an openness to it using voile (semi-transparent) fabric suspended by arched powder-coated steel frames aligning with other Christmas display fixtures throughout the store.
The Giftorium journey includes zones such as Christmas Fanatics, Superheroes, Beauty, Gift The Scents, Australiana, For Him, For Her and a wonderful Disney shop featuring a days and hours digital counter to Christmas Day.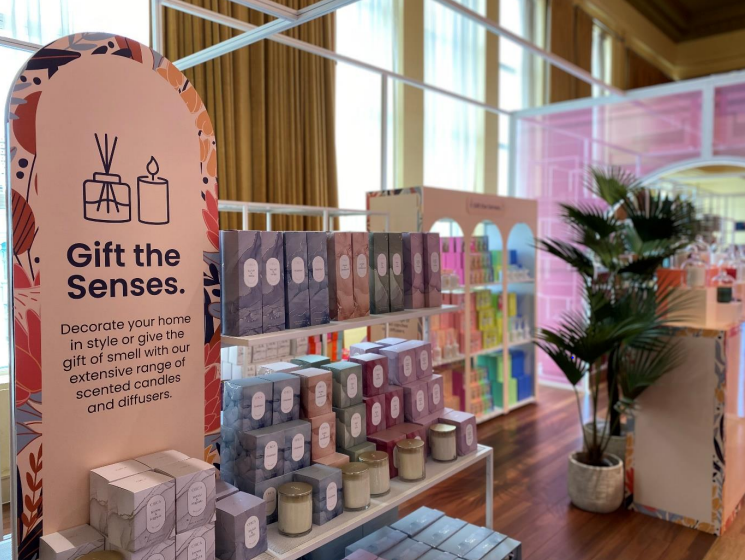 Another key feature of Giftorium is The Myer Giving Tree. Shoppers are encouraged to purchase gifts for children who are living in out of home care, emergency or rescue accommodation and place them under the tree along with a gift card with reason for giving which is displayed on the tree. This is a lovely example of a localised partnership with non-profit organisation Backpacks 4 VIC Kids.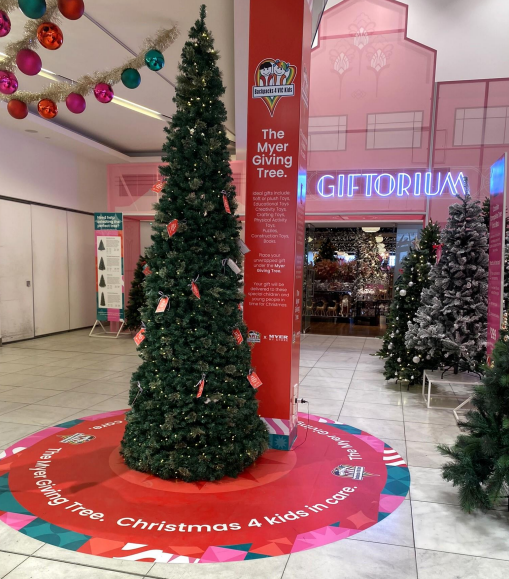 Disney 100 Maze
Unique to Giftorium this year is the Disney 100 Maze which takes big and little shoppers through the journey of Disney from 1923 through to today.
The maze features all the iconic Disney moments and lots of selfie opportunities with favourites like Winnie the Pooh, Cars, Moana, The Little Mermaid, Toy Story, this list goes on! The maze is cleverly designed with a low wall so parents can either experience with their children or peruse the Giftorium zones whilst keeping an eye on the kids.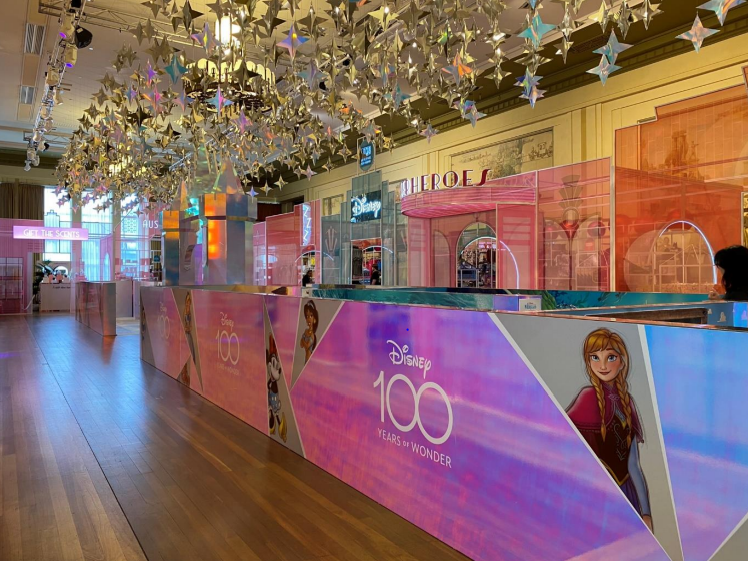 The experience of first seeing the maze is an absolute show-stopping moment! Shoppers enter the space after visiting the beautifully merchandised Christmas decoration shop, to a Disney Castle façade which forms the entrance of the maze. The pearlescent clad Disney Castle is made even more special with an abundance of metallic stars suspended from the ceiling of the Mural Hall. This Disney 100 Maze is a very special feature at Myer Melbourne this year that brings all generations together.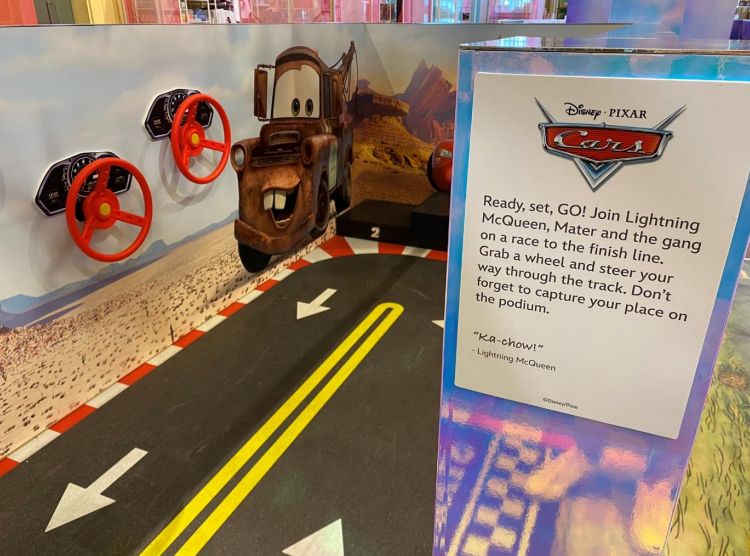 Life outside Giftorium on Level 6 Level 6 is all about the kids; clothes and toys with stand-out Christmas themed displays by Lego. As a POP display lover, I loved the cleverly engineered Lego Christmas tree FSDU's. The lightweight carboard towers are designed and printed to resembled Lego Christmas trees.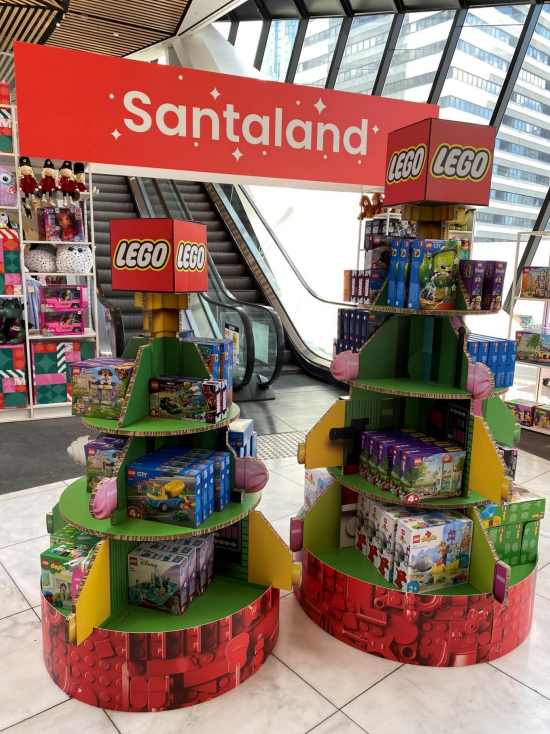 Homestretch to Santaland
The final shopper journey is to Santaland located on the 7th floor mezzanine. After experiencing Giftorium and level 6's dedicated toy sanctuary, the grand entrance to Santaland can't be missed.
The virtual ride on the Santaland Express might be in its 5 th year, but I don't think you'll find too many children worried by that detail! This is a beautiful space featuring a full-size train engine that transports children and their parents to the North Pole to visit Santa using virtual reality. Send Santa a letter from Santa's Workshop or relax in the bean bags watching Disney Frozen.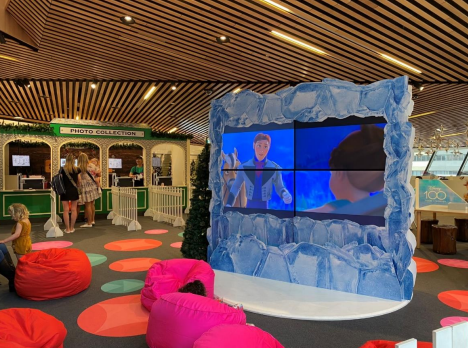 Outside of Santaland is another Disney 100 feature, but this time, letting youngsters get creative by decorating their own Mickey Mouse ears to take home.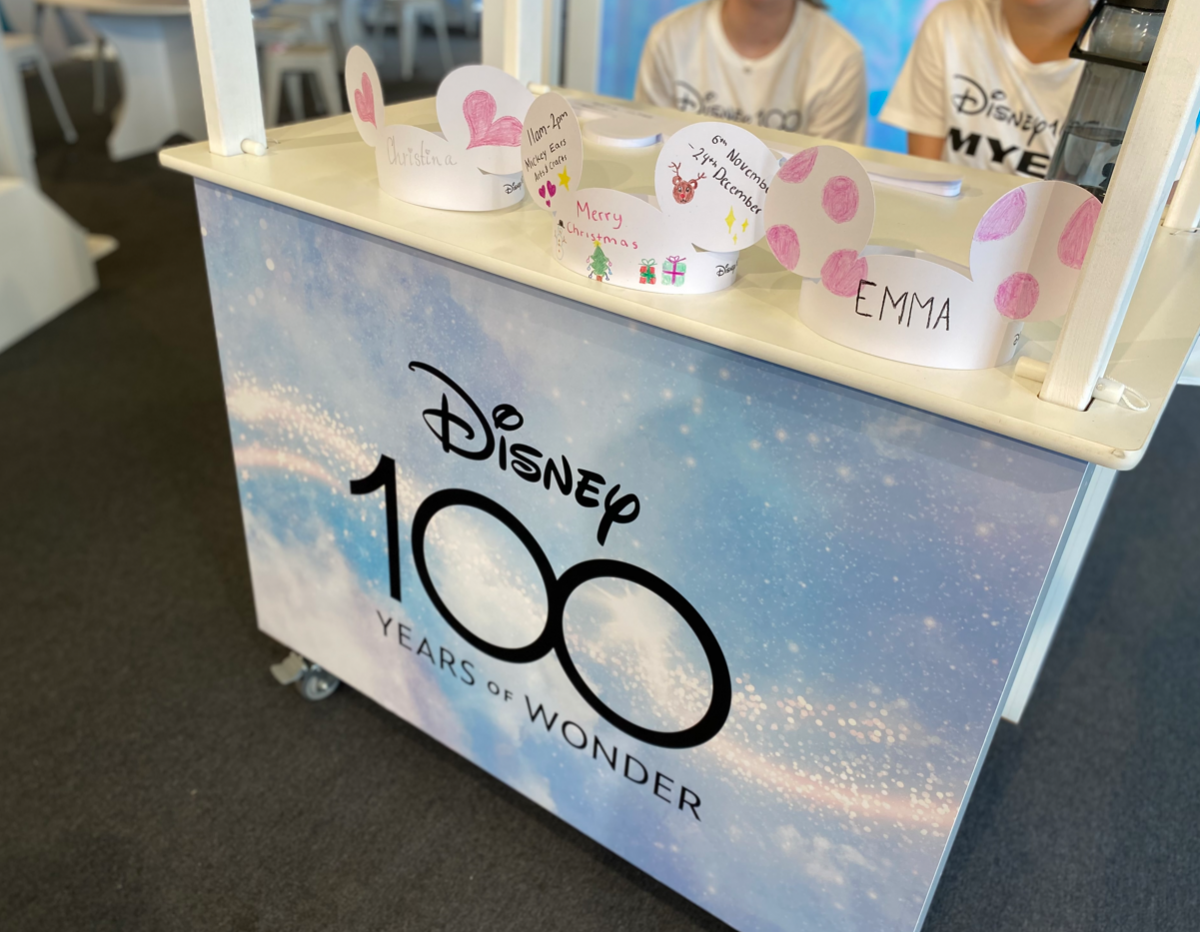 In Conclusion
Myer Melbourne has curated a highly memorable experience for anyone that likes to embrace the full Christmas in-store experience. The store has a wonderful mix or products and VM combined with history and education that can be shared with all shopper generations around the Disney 100 celebration.
The windows set the mood for your in-store journey and truly bring all visitors into the unique Myer Christmas experience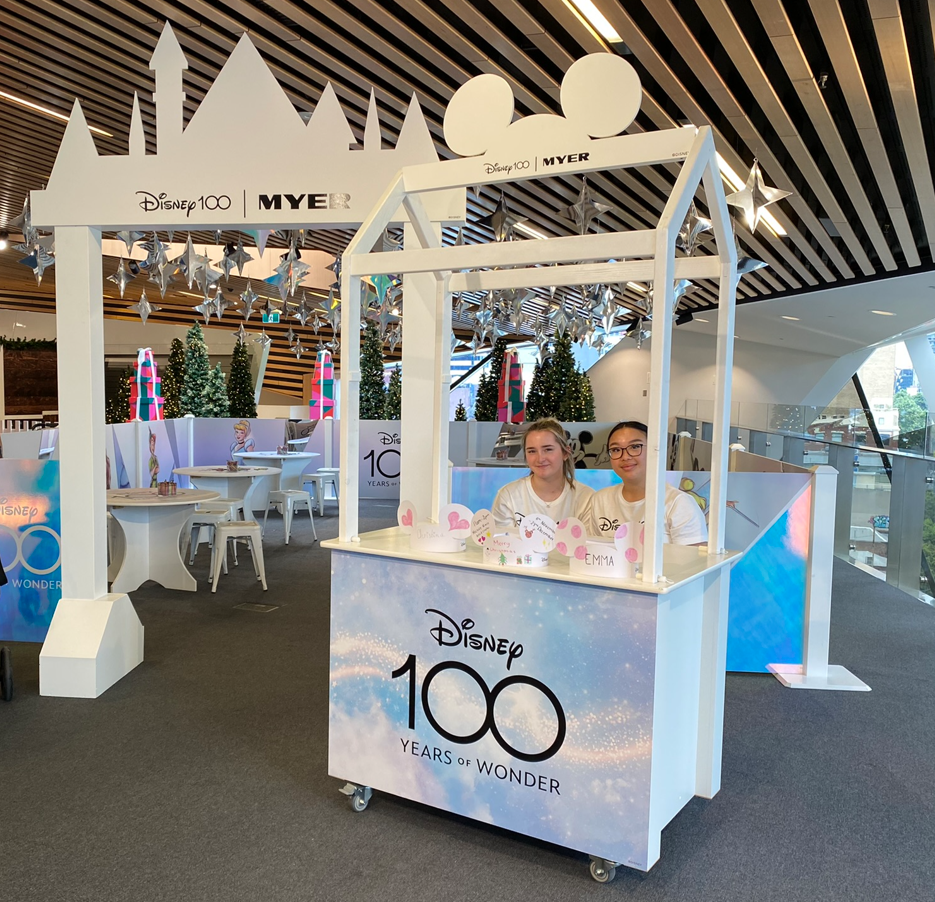 ---

Zita is a retail marketing lover with a background in industrial design, marketing and sustainable manufacturing.
For the last 20 years, Zita has worked for some of Australia's top creative and manufacturing businesses; servicing iconic retailers and brand clients.

Zita travels locally and internationally to keep up to date with the latest retail marketing trends and case studies, sharing findings with Shop! ANZ where she enjoyed 4 years on the Executive Board as Company Secretary.
zita@zitacreative.com.au or  https://www.linkedin.com/in/zita-watkin/