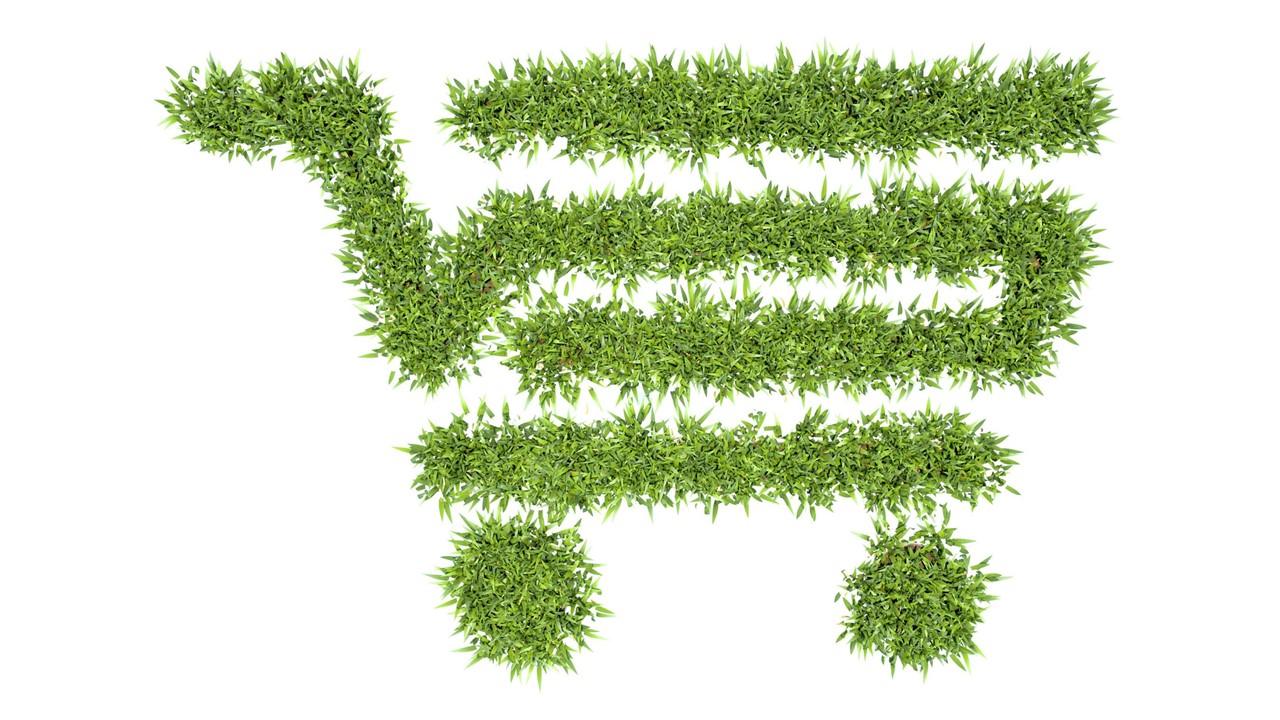 Retail Marketing Environmental Stewardship winners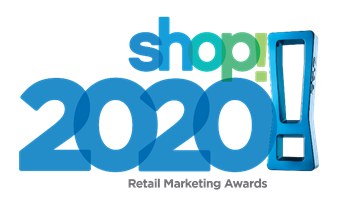 Removing the smoke and mirrors from being sustainable at retail.
The Shop! ANZ Retail Marketing Awards had its biggest year in the Environmental Stewardship category with 64 entries. This significant increase in entries clearly demonstrates the level of industry interest and commitment in the environmental stewardship space.
We are also seeing more than ever that most brands have clear and strong environmental policies in place, as do our POS display manufacturers.
The entries in the Environmental Stewardship category defined the activations materials, how they were packed for transport to store, and what the pathway was when its life instore was over. Many entries could be used more than once, and some had taken significant steps to reduce display complexity making it easier to recycle at end of life. There are so many ways that design and process can assist in reducing the carbon footprint of a retail marketing campaign.
For those that don't have a strategic environmental plan in place but want to strive for best practice, what can you do?
10 simple eco-considerations for creating a POS display:
Optimise flow of materials pre-production
Optimise materials for activation
Aim to use recycled materials
Aim to use recyclable materials
Extend life of display. Consider reusability and repurposing
Choose materials suited to life instore
Optimise materials and packaging
Minimise energy consumption of POS materials and manufacturing
Streamline customer logistics
Plan for end-of-life disposal
Design for Sustainability
D4S (design for sustainability) goes beyond how to make a green product and embraces how to meet consumer needs on a social, economic, and environmental level.
Sustainable design should consider the environmental benefits and impacts of the product along with its cost, function, performance, durability, availability, and safety.
When striving for D4S for POS displays, consider these steps:
Use 1 material only
Tight supply chain
VOC-free inks (volatile organic compound). Digital print for fewer set ups. Less energy
Designed to be shipped flat
Quick assembly
ALL other scrap from the job is recycled again.
Lightweight materials
Long lasting design - durable material
Innovative aesthetic and concept
100% RECYCLABLE! At the end of POS life, the entire unit can be placed in household kerbside recycling bin.
---
Environmental Stewardship Winners
Three entries stood out from the others from an environmental stewardship point of view.
Gold Environmental Stewardship Award, CHEP Australia for Nestlé Australia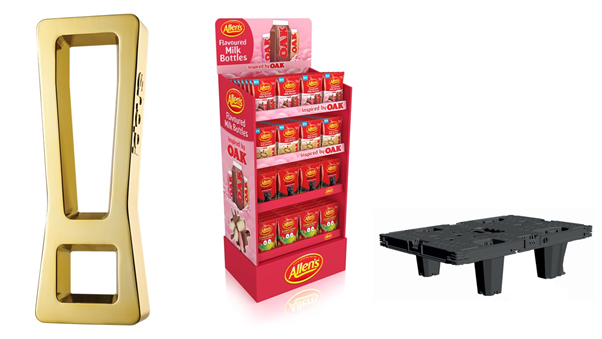 1/6th Pallet
Didn't think you could transform the environmental footprint of a POS display activation via a pallet? CHEP Australia totally reinvented the traditional pallet creating a new environmental benchmark element in the retail marketing space.
The 1/6th Pallet is a reusable, retail-ready platform ideal for one-touch replenishment in-aisle or off-location promotional displays.
Compatible with existing infrastructure, the Pallet is 1/6 the size of an Australian timber pallet (1165mm x 1165mm) and includes features to suitably store, stack, and transport safely with other supply chain equipment.
The 1/6th Pallet is sustainable by design and can be shared and reused within the industry supporting an optimal circularity model for all stakeholders.
It facilitates a pre-built display full of stock and could suit material handling equipment and automated warehouses. This allows stock to be shipped as a complete unit directly from warehouse to store, reducing manual handling and high waste associated with cardboard displays. It also reduces the number of times a unit is touched ensuring continuity of promotional plans, especially when government restrictions are in place and minimising potential risks to COVID-19.
To support a reduction/elimination of manual handling risks, it is lightweight (less than 2kgs) and stable to withstand a high working height of 200kgs. This introduces the ability to fill the unit with more stock as if bypasses the requirement for a manual lift (pre-built displays today have a maximum weight of 16kg).
Durability/strength were key criteria in material choice. Made with fully recyclable polypropylene plastic, it can be washed and sanitised to industry standards and designed to be shared and reused within the industry, making it a fully sustainable product that can be recognised for all users in meeting their United Nations Sustainability Development Goals.
Silver Environmental Stewardship Award, IVE Group for Real Pet Food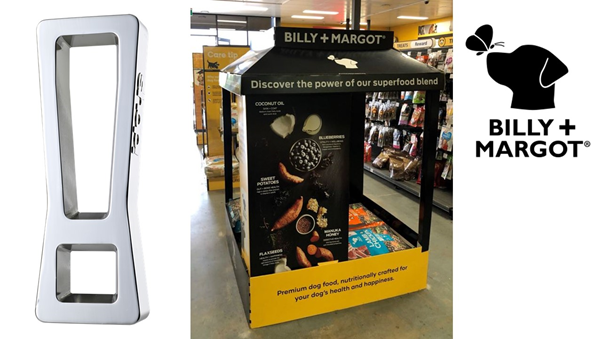 Billy and Margot Petbarn Pallet Display
Billy + Margot's vision in the Australian market is to be the "go to" ultra-premium brand in speciality pet retail stores. By delivering a promise of using high quality ingredients, crafted by a nutritionist for our four-legged friends to enjoy. This will be determined by prompted and unprompted brand awareness.
Real Pet Food had the opportunity collaborate with Petbarn on a Billy + Margot execution by designing a theatrical pallet display exclusively sold into 50 key stores.
The pallet display created the idea to convert the look and feel of the display to a doghouse, disrupting the shopper's attention from all angels with a large area for education and advertising whilst keeping in line with Petbarn's guidelines.
The industrial and structural designers at IVE Group worked together to create an impactful and practical display that would leave as small carbon footprint as possible. Created locally, under one roof to lessen machine to factory transfer, with over 100 environmental initiatives linked to the best practice for staff, factory, and machinery the aim was to ensure Real Pet Food's brief and targets were met in the most sustainable manner.
The use of interlocking tabs (even to create the supporting poles) and recycled and recyclable materials (board), flat packing the units into recycled shippers, reduced the impact of freight. The entire unit could be flattened and placed in the one paper waste recycling bin with ease, creating an easier environmentally friendly option for store staff to dispose of the used unit.
Bronze Environmental Stewardship Award, ABBE Corrugated with Indicia Worldwide Nestlé Australia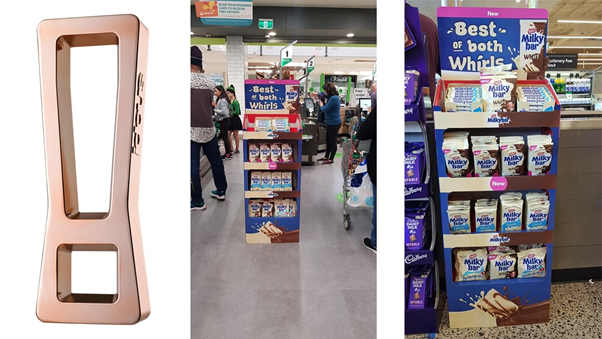 MILKYBAR WHIRL Dress Up Kit
MILKYBAR WHIRL was launched June 2020, a twist on the original MILKYBAR with a swirl of milk chocolate throughout. The new block and bar targeted at adults, was part of a category opportunity to increase the frequency of white chocolate consumer purchases within the total chocolate category.
Due to circumstances related to COVID-19, the activation had a tight timeline to work with to design and produce a dress-up shroud to fit over an existing design.
The MILKYBAR WHIRL shroud was designed entirely from 1 material. It is lightweight, easy to transport to stores, and quick to assemble.
It was locally produced from E Flute Claycote because this material has exceptional durability and environmental qualities. This material inherently has a premium and glossy look when printed without requiring additional cello-coating.
Usually dress-up kits require 4 parts: sides, header, kicker-base and shelf-strips. These separate parts then require additional fixtures such as PVC-clips and foam-tape to complete assembly.
But in this case, ABBE Corrugated produced the substrate so that the shroud could be made as one piece with integral tabs, removing the need for additional tape / fixtures, enabling the shroud to be fully recyclable at end of life.
The shroud is 100% Australian designed and made at one single site reducing time and energy consumption creating a closed loop approach.
Environmental Summary
Only 1 material reducing recycling complexity. Dispose shroud without removing adhesives, shelf-clips.
Minimal energy consumption - Tight supply chain. Material, print and construction completed locally at one site.
ALL post-industrial waste is recycled.
Digitally printed using VOC-free inks requiring fewer setups and less energy consumption.
Lightweight and shipped flat reducing transport costs/energy.
100% RECYCLABLE at the end of POS life. The entire unit can be placed in a curbside recycling bin.
---
Read our latest Shop! White Paper on Sustainability at Retail >