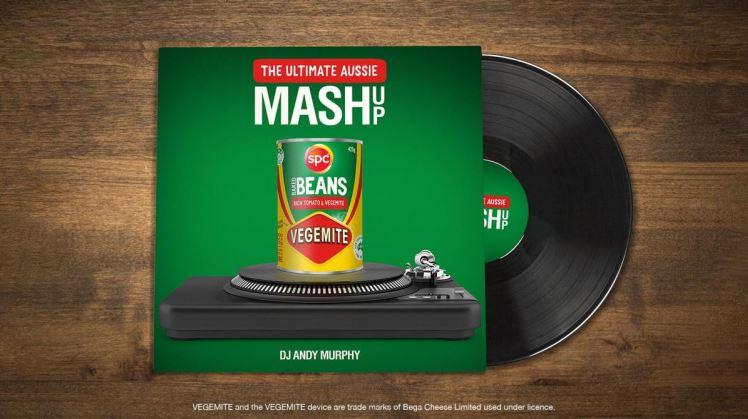 SPC teamed up with Vegemite for its latest marketing effort
Bringing younger shoppers into the baked beans category is behind SPC's new sound collaboration with Vegemite and creator, DJ Andy Murphy, its marketing manager says.
Following an initial product collaboration in May, SPC Baked Beans and Vegemite have teamed up with Melbourne-based DJ and music producer, Andy Murphy, to produce an original audio track. The 'Ultimate Aussie Mashup' combines SPC's iconic jingle, 'Hungry little human beans' with Vegemite's 'Happy little Vegemites' and is influenced by the house music style of the 1990s.
The collaboration was undertaken in conjunction with agency, Thinkerbell. The track has been added by Murphy to Spotify and is also available on Apple Music, Soundcloud and Amazon Music. In addition, the track is playing nationally across the Nova network with a targeted sponsorship of the Fitzy & Wippa breakfast show.
SPC marketing manager, George Dimkin, told CMO the collaboration of two brands with iconic audio assets well-known to older consumers presented the perfect opportunity to use sound to drive cut through with a younger target market.
"We're looking to introduce younger shoppers to the category with penetration in the baked beans category currently strongest amongst old generations," Dimkin said. "As two iconic Australian brands in SPC and Vegemite, a big part of selecting house DJ, Andy Murphy, was the authenticity an accomplished grass-roots local Aussie talent brings in appealing to the target market."
Dimkin saw audio as an impactful way of building emotional connection. It's also worth noting using third-party creators is a new marketing tactic for SPC.
"With SPC having recently undertaken a brand refresh, we saw this as a great opportunity to re-energise the brand and present SPC to consumers as more relevant and relatable, while bringing a little enjoyment to the lives of today's consumer," Dimkin continued.
The rebrand followed the 2019 sale of SPC to Shepparton Partners Collective, backed by Sydney-based investment firms, Perma Funds Management and The Eights. In late 2020, SPC relaunched its brand with a new logo, principles and new message of It's time for better.
The latest Mashup audio is set to play a key role in SPC's advertising and content plan, with the Nova advertising and breakfast radio sponsorship complemented with paid amplification across TikTok, Meta and Instagram. There's also an integration across owned and digital channels through microsite, aussiemashup.com.au.
"The audio mashup was a critical puzzle piece in our 'Ultimate Aussie Mashup' platform, which integrates with our print magazine and path-to-purchase program to support our national range across Coles, Woolworths and leading independent supermarkets of 425g and 4x220g SPC Baked Beans and Vegemite SKUs," Dimkin added.
Thinkerbell chief, Adam Ferrier, said the objective was an idea that would increase category share, reinvigorate the SPC brand and recruit young Aussies. The kick off was the partnership with Vegemite to bring a SPC Baked Beans x Vegemite product to market from May 2022.
"This iconic Australian collab strategically leveraged the brand equity Vegemite has in Australia to become relevant in the minds of young Australians," Ferrier explained. "To drive further buzz and excitement around the new SPC and Vegemite Baked Beans, we teamed with an Aussie DJ to mash up the two famous songs: 'Hungry Little Human Beans' and 'Happy Little Vegemites'.  
"We wanted to play off the long and storied nature of the two brands to create a nostalgia-inducing musical mashup, taking the best bits from each brand's memorable pasts, with a fresh new twist.  
"SPC and Vegemite are both iconic Australian brands that have been intertwined within our lives for years through breakfast, lunch and tea. Merging their renowned jingles into a contemporary original track felt like an authentic way in which to inject some of the fun back into the baked beans aisle. This audio mashup is impactful in that it connects on an emotional level, drives familiarity and does the important job of attracting a younger audience."
As to measures the brands and agency will be using to gauge the success of this, Dimkin said short-term it's about consumer engagement across social platforms and product sell through, trial and repeat purchase.
"In the longer term, we're after increased purchase intent and brand preference for SPC, and sales performance for SPC Baked Beans and Vegemite SKU range and its overall contribution to the broader SPC Baked Beans portfolio," he said.