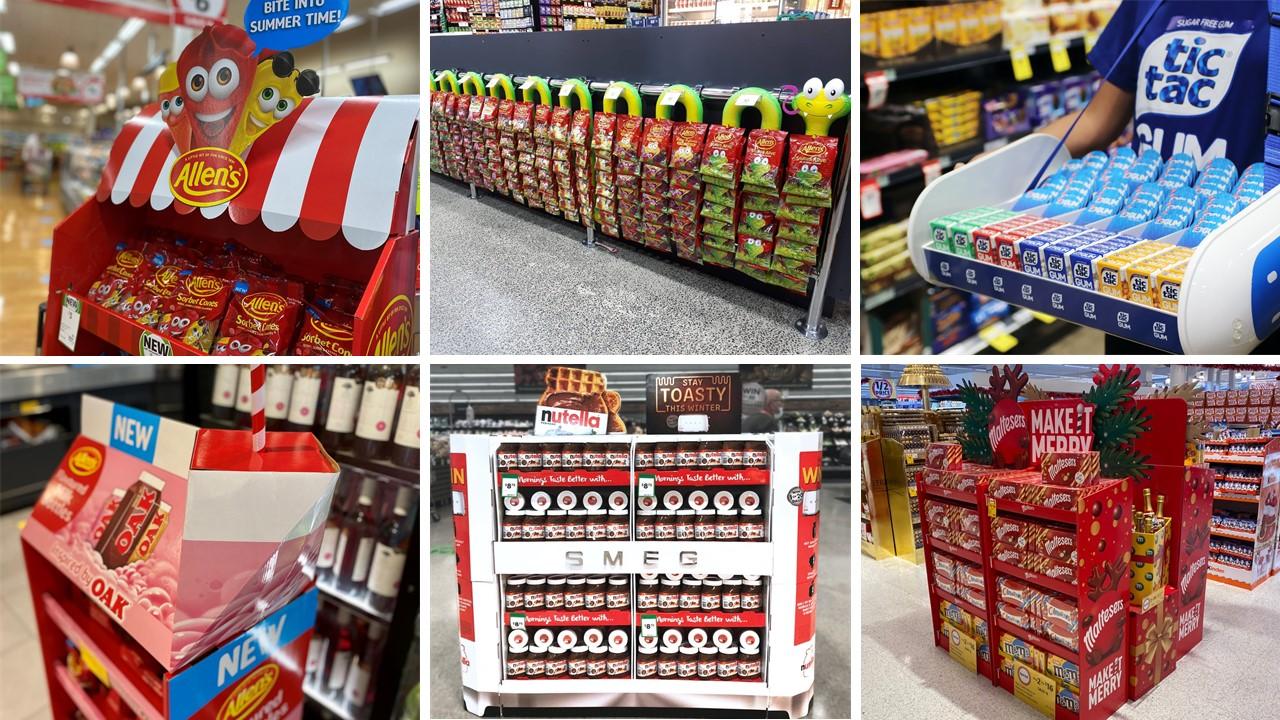 2021 Confectionery Display Trends
The Confectionery Display
Report by Zita Watkin, Shop! ANZ
The off-location display is a critical tool for brand marketers. It enables a product to be taken away from the competition, stand-out and speak of who it is. It helps to create an independent voice. Although off-location displays are key in driving impulse sales, they have even bigger opportunities; to show personality and educate new audiences.
Retail displays have been part of the grocery and mass department store environment for over 100 years. Shoppers are very familiar with them – they are normal and expected in everyone's path to purchase. Shoppers are wise to them, therefore if you don't use the opportunity thoughtfully, your brand may blend into the supermarket aisle abyss. You can't simply rely on stock holding and a repeated call-to-action graphic. This is the time to be imaginative and creative, parading brand and product with emotion and theatre.
One market segment that uses off-location displays in inspiring ways is 'confectionary'. Confectionery brands are always introducing new product-lines and interesting marketing tactics to increase engagement.
There are always occasions for a confectionery purchase - it doesn't need to be Valentine's Day, Easter or Christmas. But although there are lots of opportunities to grab attention (linking to moments and occasions), there is also an abundance of competition. Only the cleverest display will stand out, breaking free of the army of "same-same" POP displays.
Confectionery display trends summary:
1.       The space invader
2.       Iconic brand, iconic stand!
3.       The roaming display
4.       Cocreate to innovate
5.       Premium visual experiences
6.       Reinvigorate using high impact displays
Following are some trends to watch out for with some examples to illustrate.
Grocery Store Confectionery Display Trends
There are a few trends to point out with 'Allen's Snake display' which was awarded Best Display at the Shop! ANZ Awards as well as top honours in the Permanent Grocery Display and a silver trophy in the Permanent Retail Industrial Design category.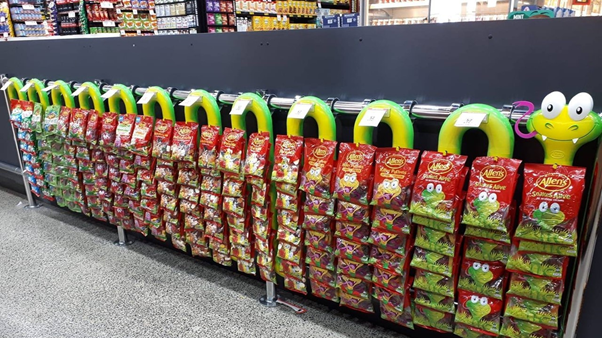 1. The space invader
As confectionery products can be that perfect impulse purchase, their displays need to take advantage of grocery checkout areas. When Nestle Australia asked for a "hang-sell" to hold their 'Snakes Alive' range for grocery checkout zones, retail marketing specialists Indicia Worldwide together with id8 Studio totally reimagined the task! The result was a modular, expandable injection moulded snake that could slither its way across checkout rails. The display requires 4 unique parts, but multiple body sections can be added creating a display with limitless length.
2. Iconic brand, iconic stand!
The 'Snake Display' is a solution that retailers want and shoppers love – a slimline, versatile, and flexible display solution that is both highly recognisable and fun on the path to purchase.
The Allen's snake aesthetic is perfectly represented through the snake's 3D form, big round eyes and pink forked tongue. The Allen's logo is also incorporated into the display's mould leaving a permanent brand footprint as FOS for years to come.
3. The roaming display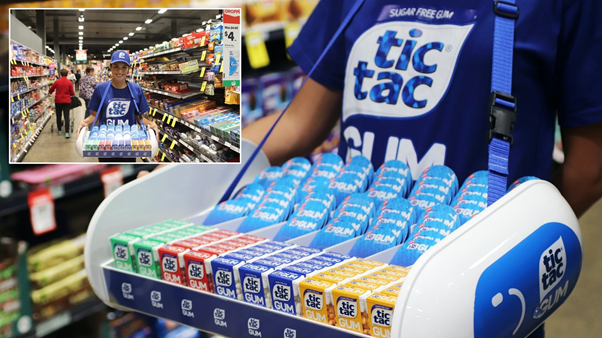 The roaming display - Move over FSDU's! In 2019 Tic Tac was launching a new product in the highly competitive gum. Challenged by a limited number of product facings available on shelf, brand owner Ferrero briefed BTL retail marketing agency D2C to create a delivery platform that could be taken to the confectionery aisle and could hold not just samples, but also retail size product. This fun and experimental design aligns to Tic Tac Gum's brand positioning and target market. The roaming display solution was a radical rethink of the existing delivery platform of an on-shelf delivery program.
4. Cocreate to innovate
Confectionery is a wonderful time to play! Shoppers love innovation in this category (any reason to try something genius and new!) and cocreation is an excellent way to disrupt them. Whether it's through unlikely but clever partnerships, or a new product range that speaks to an occasion, blending products and brands together can really stir up the market. Below are some examples of brands playing in this this exciting market with highly impactful retail display solutions.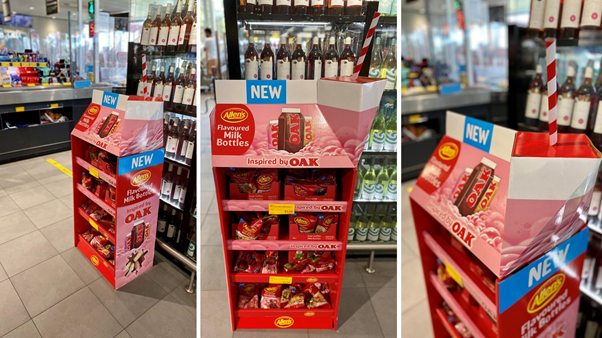 In 2020 Allen's launched their Oak Milk inspired Milk Bottle Flavoured lolly's. The retail display execution for this unique idea used a ¼ pallet display shaped like a carton of Oak Milk complete with a straw! A super cute idea, this display needs no copy in the artwork to explain exactly what it's promoting – a perfect and delicious partnership.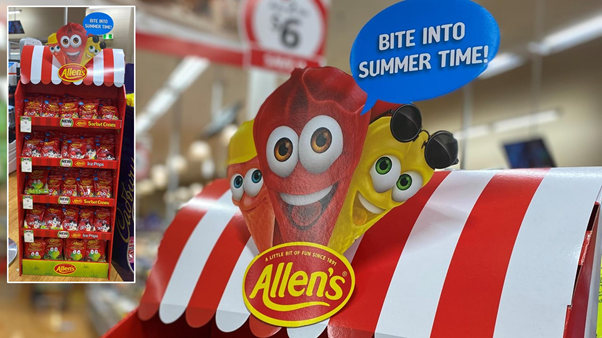 Allen's Bite into Summertime display combines those old school summer flavours with the iconic red and white Milk Bar awning into the display. A simple but high impact display with instant visual connection. Perfect for checkout zone on the home stretch of the shopping trip.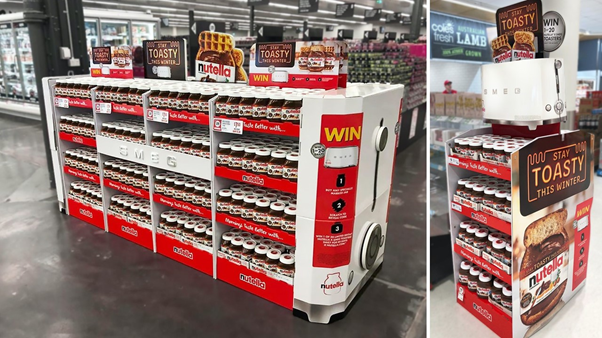 Not a confectionery example, but one that highlights the success that can occur via cocreations, is the Nutella 'Stay Toasty' campaign.
The chocolaty nature of the Nutella product transcends markets (i.e., savory meets sweet).
The Stay Toasty campaign included several unique elements which made it stand-out during the winter period. It was the first time SMEG collaborated with a consumer brand to create a limited-edition product and from this the cross-category partnership merged the spreads category with consumer electronics which came to life in-store with theatrical and impactful POS displays using 3D design depicting a giant SMEG toaster with intricate curves and popping toast.
'Stay Toasty' was the gold trophy recipient in the temporary grocery category. Created by The Mix Agency together with Opal Specialty Packaging for Ferrero Australia.
5. Premium visual experiences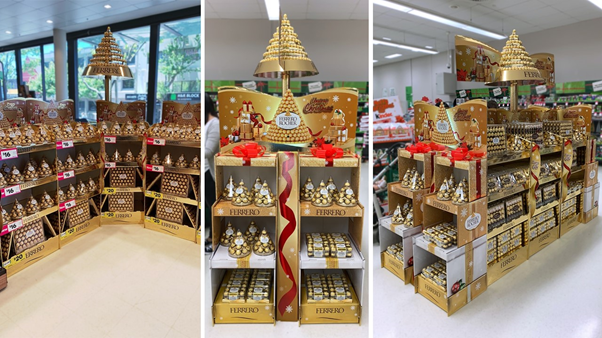 Ferrero are masters of blending visual merchandising with POP displays. Last Christmas, Ferrero Rocher set out to be the "beacon point of sale display", capturing shopper interest during the holiday period by creating a premium visual experience, worthy of front of store positioning.
Opal Specialty Packaging and The Mix Agency worked with Ferrero to deliver a magical Christmas occasion in-store, showcasing the Ferrero Rocher seasonal range whilst creating one of the most memorable Christmas displays of 2020.
6. Reinvigorate for an occasion using high impact displays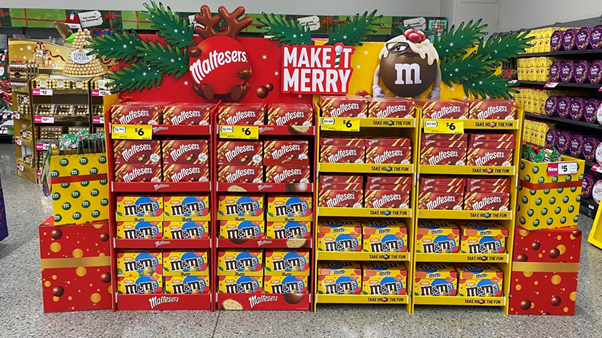 Whist some brands and products lend themselves perfectly to gifting through bows, ribbons and metallic packaging, others need to make their impact using boldly themed displays.
Christmas 2020 saw Mars bring their flagship products Maltesers and M&M's together in a high impact range of displays. By nature, these products are designed to be shared, but taking them away from the competition on shelf and presenting them as a gift option is critical in grabbing the Christmas gift market.
Created by 5PGroup for Mars Wrigley Australia, the 'Make it Merry' in-store campaign took the rectangular packaging off shelf promoting M&M's and Maltesers as a gift option. The POP display clad with a high impact LED clad header, promotes a simple but strong gift message for the Mars range.
---
Read more news about the Awards
2020 Shop! Award winners crowned
In a year punctuated by the Covid-19 pandemic and ongoing business and retail challenges, digital marketing campaigns took pride of place at the Shop! ANZ 2020 Retail Marketing Awards, showcasing the ingenuity and success of the Australian and New Zealand retail marketing industry.
Taking home the biggest prize of the night, the Tom Harris Retail Marketing Best in Show Award, was POP This for Revlon Australia with the Revlon Super Lustrous Lipstick Carousel and Virtual Mirror – a dual purpose display featuring digital lip colour testing. Read story >
Find out more about the new trophy
2020 was a year of significance for Shop!. Not just because of the upheaval the COVID-19 pandemic wrought on our tightknit industry, but because it was the year that as the industry's representative body, we made the decision to continue our evolution with the design of a brand-new trophy and symbol for the retail marketing Awards. Read story >