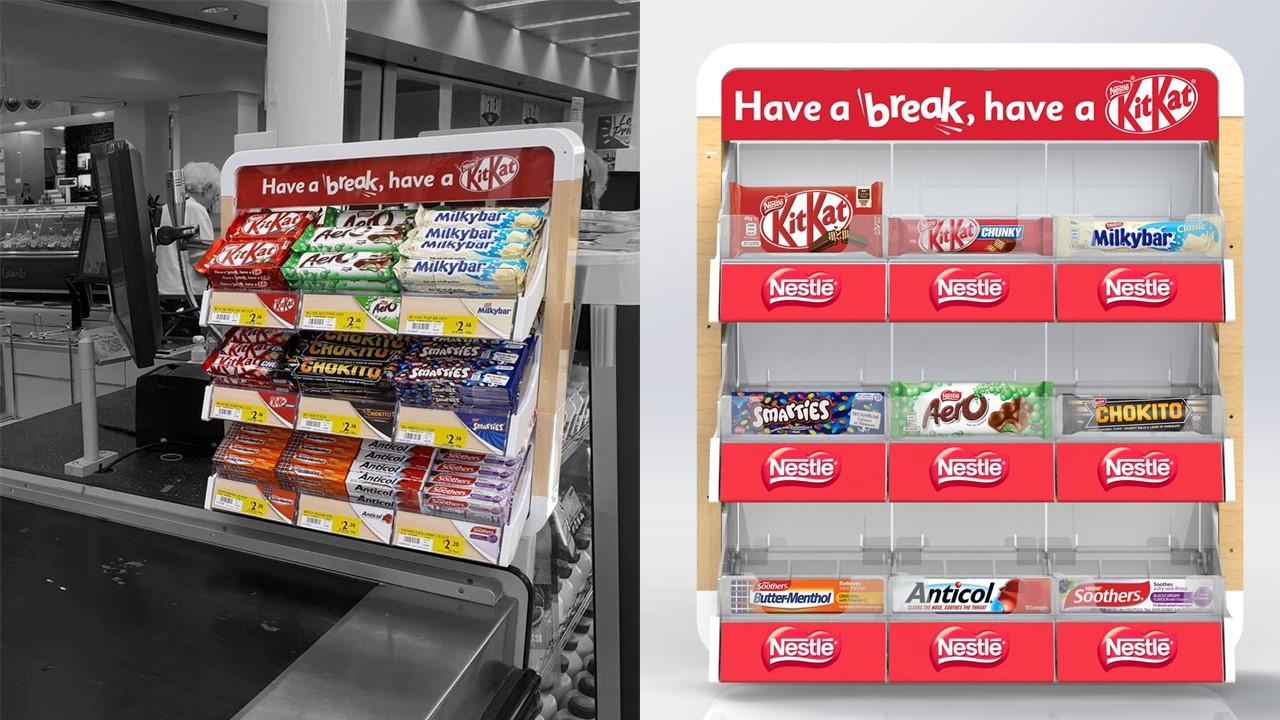 Nestle Wins at Global in the Competitive Food, Grocery and Convenience Category
Nestle, together with id8 Studio and Indicia Worldwide, wins the highly contested Permanent Food, Grocery and Convenience category at the Shop! Global Awards! 
Top honours were awarded to  Nestle, together with id8 Studio and Indicia Worldwide (formerly Konica Minolta Marketing Services) for its 'Nestlé Odyssey Activation' winning the Shop! Global Award for best Permanent Food, Grocery and Convenience Display of 2020!
This is important global acknowledgement for a permanent display in the highly contested FMCG environment.
Id8 Studio's unique design was praised for its 'thinking outside the box' solution that transformed unused supermarket 'airspace' into a valuable permanent selling zone.
The annual Shop! Global Awards recognise excellence in point of purchase retail displays, activations, visual merchandising, and store design.
Agencies from 17 countries around the globe competed to win top honours in the global awards. To be eligible to enter the Shop! Global Awards, entrants must win a gold trophy in their own country first.
Melanie Ware, Point of Purchase Manager, Nestle Confectionery & Snacks said of the acknowledgement,
We are absolutely ecstatic to have been awarded top honours at this year's Shop! Global Awards for our 'Nestlé Odyssey Activation', winning Best Permanent Food, Grocery and Convenience Display of 2020!

A huge congratulations to everyone involved in bringing this challenging project to life. Special thanks to our design agency ID8 for their passion, innovation and always thinking outside the box (no challenge was too big!) our production team at KMMS who always kept us on track and accountable, the Nestlé project team who worked tirelessly to ensure we had the right strategy, tools and POS design, and of course, our incredible field team who flawlessly executed the units and strategy in store. All of these people played a crucial role in helping us to take back front of store in Indies and turn airspace in selling space!
Nestlé Odyssey Displays have the ability to adapt to different locations and their design can transform to suit a variety of shopper facing combinations. They been rolled out in IGA stores across Australia . Read more in the case study below.
---
Nestlé Odyssey Case Study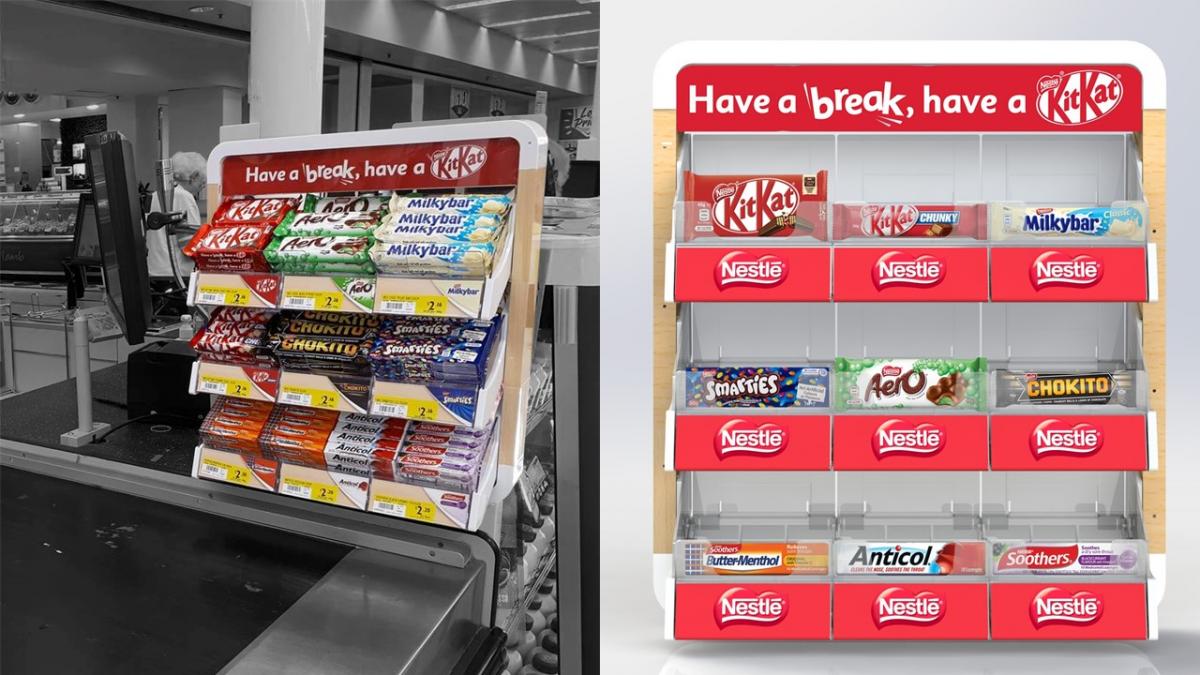 'Nestlé Odyssey Activation' Background
We had lost our presence in front of store to competitors resulting in a decline in sales in Independents. We needed to win back front of store using the right POS and strategy to drive incremental sales.
Insights & challenges
Shoppers are using Independent stores for "top up shops" rather than main food shops, resulting in them using express checkouts.
Our challenge, design a unit that was:
compatible with all stores
Securable to hardware
Easy to assemble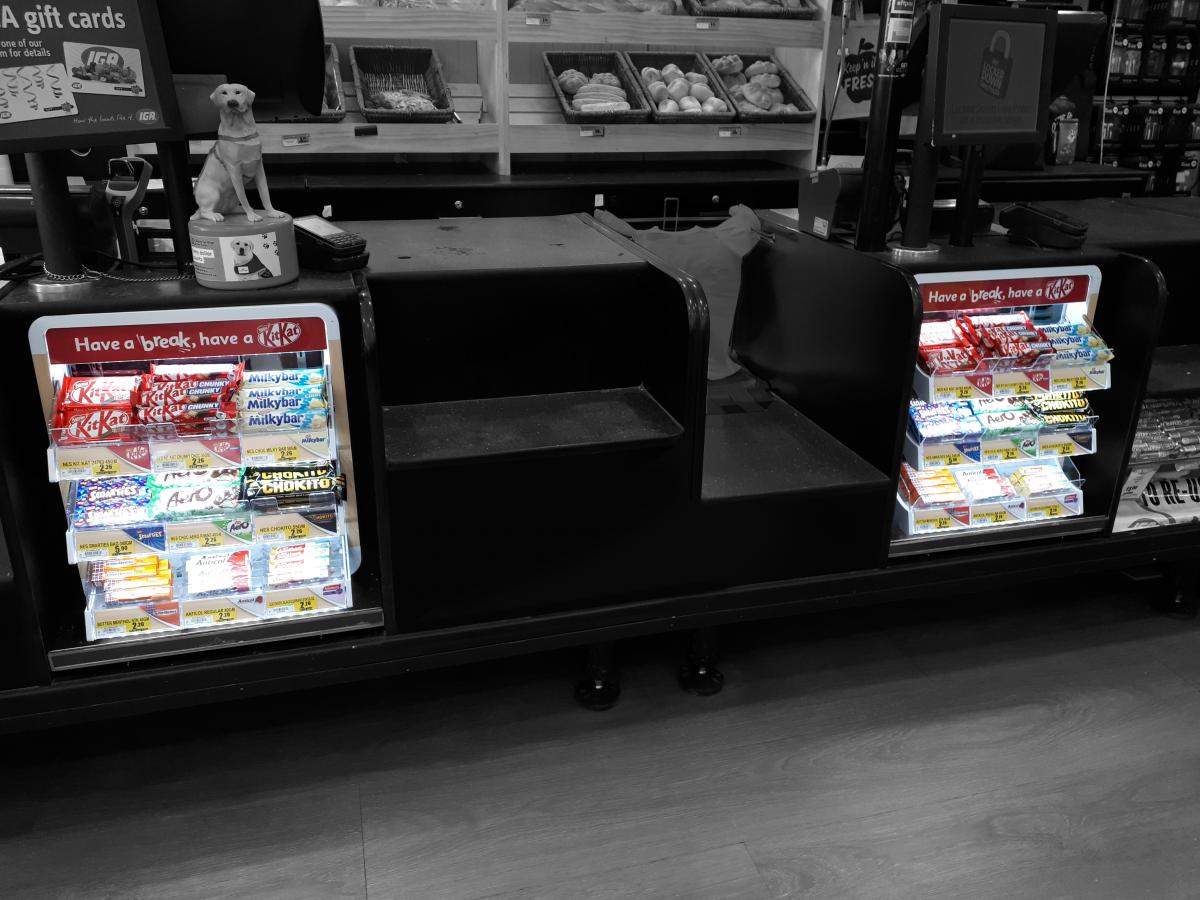 Design innovation
We created a premium yet neutral design that was adaptable for all in-store locations.
Aesthetic features include a clean white frame with wood grain elements and integrated lighting, perfectly complementing the independent grocery store interior.
The universal parts click together without tools enabling quick transitions from 1 to 9 facings, making the display super-efficient for merchandisers.
Odyssey can be adapted to any in-store location. It has been designed to attach onto existing grocery store hardware, but the design also incorporates various attachments so it can be transformed from wall, to free standing or even mounted onto cooler displays commonly used at check-out.
Results
The Nestlé Odyssey POP Displays totally transformed checkout real estate, turning airspace into primary selling space.
It allowed Nestlé to win back front of store, aligning with the shopper led "Buy as you need" strategy supported by independent stores.
The POS display was seamlessly integrated into the store design, whilst keeping the "Gold Range" within arm's reach of shoppers.
The sales results were unprecedented, turning a ghost zone into a highly profitable sales area fulfilling objectives above and beyond KPI's in only 12 weeks!
---
Watch the animation video Nestle Odyssey by id8 Studio
To find out more about id Studio and their projects visit their website >>>
To find out more about Konica Minolta Marketing Services visit their website >>>
---
For more infomation about the Shop! Global Awards including a list of all the winners go to the Winners Announcement >>>
Entries to Shop! ANZ's 2020 Retail Marketing Awards open on October 8. For more details, visit the awards page, shopassociation.org.au